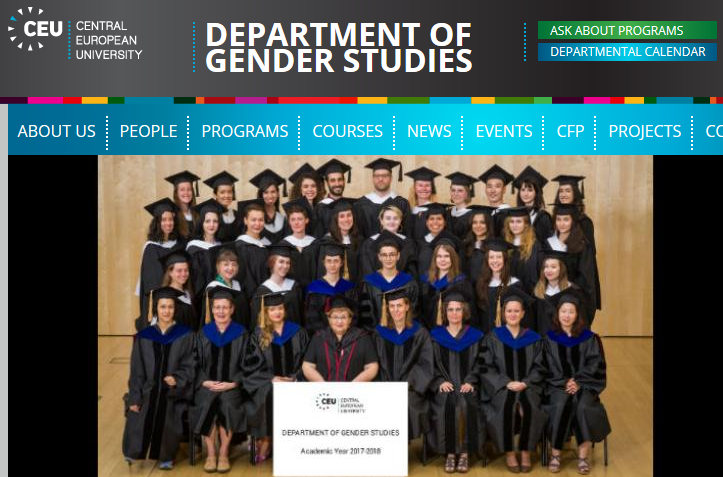 23/09/2018 - In August 2018, the Hungarian Ministry of Human Capacities and the Ministry of Justice took the extraordinary and authoritarian measure of giving Hungarian universities 24 hours to comment on a proposed decree to stop offering Hungarian-accredited Gender Studies teaching from September 2019, ostensibly for financial reasons and a claimed lack of labour market demand. Hungarian accredited Gender Studies programmes are currently offered by the state-funded Eötvös Loránd University (ELTE) and the Central European University (CEU). The decree does not affect the US-accredited degree in Gender Studies offered by CEU. Students currently pursuing Hungarian-accredited degrees in Gender Studies are permitted to complete them.
It has been claimed in the Hungarian press that these courses promote a specific ideology inconsistent with western values and that what is taught in Gender Studies is not social science. IAMCR notes that Gender Studies courses and programmes are taught at prestigious universities around the world. The move attacks academic freedom and will deny students following Hungarian accredited programmes the opportunity to learn how to engage critically with contemporary power asymmetries that are implicated in gender-based discrimination. IAMCR, a global academic research association in the media and communications field, has a thriving Gender and Communication Section that is committed to developing research and teaching on how gender and identities are reproduced through media production and consumption and how structural inequalities give rise to gender discrimination. Social, political, economic, and cultural policies based on gender discrimination are a threat to the principles of justice and rights that underlie democratic societies. Training in the field of Gender Studies is essential to the health of many academic disciplines and it is also crucial in preparing students to engage with the world.
The IAMCR community is surprised that this sort of micro-meddling in academic curriculum is being supported by the president of a country, especially a country whose people so recently fought for liberation against censorship and repression, and for an open and democratic society. The decree panders to a malevolent, homophobic, and misogynistic minority base of support, but the underlying goal of eradicating a spirit of tolerance, respect, and equality in Hungarian society will ultimately fail. We implore President János Áder to again embrace the values he once outspokenly defended, and which were the foundations on which he won public trust.
IAMCR calls Prime Minister Viktor Orbán and Minister of Human Capacities Dr Miklós Kásler to withdraw the decree that will suppress valuable training provided by courses and programmes in the Gender Studies field, and which will have a chilling effect on freedom of inquiry and freedom of expression within the Hungarian academy.
This text of this statement was drafted by the Clearinghouse for Public Statements and approved by Professor Janet Wasko, president of IAMCR. The Clearinghouse processes statements and/or manages the process of signing statements generated by others, that are principally concerned with issues relating to media/communications and where IAMCR members have substantive scientific expertise that provides a basis for seeking to influence discursive or material practice.
Sources:
Related:
In 2017 IAMCR protested proposed legislative changes in Hungary intended to change the status of Central European University (CEU), forcing it to close and endangering academic freedom. See https://iamcr.org/clearinghouse/ceu