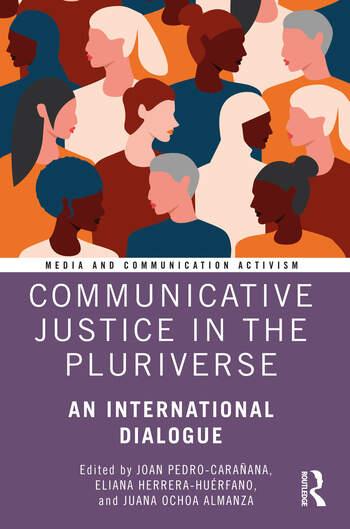 Edited by Joan Pedro-Carañana, Eliana Herrera-Huérfano and Juana Ochoa Almanza
This volume examines communicative justice from the perspective of the pluriverse and explores how it is employed to work towards key pluriverse goals of environmental, cognitive, sociocultural, sociopolitical, and political economy justice.
The book identifies and explains the unequal power relations in place that limit the possibilities of communication justice, the challenges and difficulties faced by activists and communities, the ways in which communities and movements have confronted power structures through discourse and material action, and their successes and limitations in creating new structures that promote the right to, and facilitate a future for, communicative justice. The volume features contributions based on experiences of resistance and transformation in the Global South—Bolivia, Ecuador, India, Malawi, and collaborations between the continents of Latin America and Africa—as well as notable studies from the Global North—Japan, Spain, and the United Kingdom—that defy hegemonic models.
This book is essential for students and scholars interested in media and communication activism, media practice for development and social change, and communication for development and social change, as well as those actively engaged with activism and social justice.
Joan Pedro-Carañana is Assistant Professor of Journalism and New Media at the Universidad Complutense de Madrid, Spain.
Eliana Herrera-Huérfano is Dean of the Communication School at Uniminuto, Corporación Universitaria Minuto de Dios, Colombia, and member of IAMCR.
Juana Ochoa Almanza is Research Professor in Communication, Development, and Social Change at the Corporación Universitaria Minuto de Dios, Colombia, and member of IAMCR.
The above text is from the publisher's description of the book:
Title: Communicative Justice in the Pluriverse
Editors: Joan Pedro-Carañana, Eliana Herrera-Huérfano and Juana Ochoa Almanza
Published: 2022
Pages: 200
Publisher: Routledge