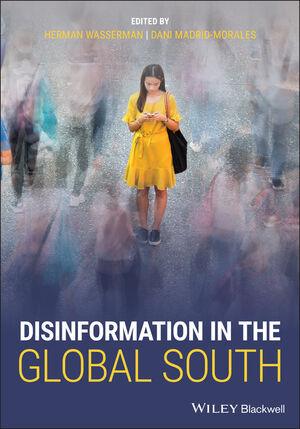 Edited by Herman Wasserman and Dani Madrid-Morales
A timely and incisive exploration of disinformation and its impact in the Global South.
In Disinformation in the Global South, media and communications scholars Herman Wasserman and Dani Madrid-Morales deliver a unique and geographically diverse collection of perspectives on the phenomenon of disinformation as it manifests in the Global South. In many parts of the Global South, coordinated political disinformation campaigns, rumor, and propaganda have long been a part of the social fabric, even before disinformation has become an area of scholarship in the Global North. The way disinformation manifests in this region, and responses to it, can therefore be highly instructive for readers around the world.
Through case studies and comparative analyses, the book explores the impact of disinformation in Africa, Latin America, the Arab World and Asia. The chapters in this book discuss the similarities and differences of disinformation in different regions and provide a broad thematic overview of the phenomenon as it manifests across the Global South. After analyzing core concepts, theories and histories from Southern perspectives, contributors explore the experiences of media users and the responses to disinformation by various social actors drawing on examples from a dozen countries. Disinformation in the Global South also includes:
A thorough introduction to Southern perspectives on national histories, theories of disinformation, and research methods in disinformation studies
Global case studies of cultures of disinformation, including ethnographic insights into how audiences engage with disinformation
Comprehensive explorations of responses to online and offline disinformation, including discussions of news literacy and the management of disinformation
A valuable resource for scholars of disinformation everywhere, as well as senior undergraduate and graduate students in courses covering transnational or global perspectives to communication studies, Disinformation in the Global South is also an ideal reference for anyone studying or working in media or journalism.
Order before 30 June at www.wiley.com and get 20% discount with code ICAW2

Herman Wasserman is Professor of Media Studies at the University of Cape Town, South Africa, and a member of IAMCR.
Dani Madrid-Morales, PhD, is Assistant Professor of Journalism at the University of Houston's Valenti School of Communication, United States.
The above text is from the publisher's description of the book:
Title: Disinformation in the Global South
Editors: Herman Wasserman and Dani Madrid-Morales
Published: 2022
Pages: 272
Publisher: Wiley-Blackwell