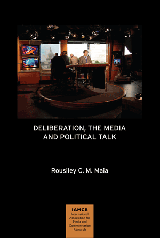 By Rousiley C. Maia, 2012
In recent years democratic theory has taken a deliberative turn and one central question that needs to be answered is how to connect face-to-face conversations and deliberations in particular forums to broader discussions in the larger society. Working within the cutting edges of deliberative theories, this book surveys the role of the mass media in the deliberative system and investigates, through a set of empirical cases, a range of key problems in the media arena: the interplay between arguing and strategic maneuvering; public demands for accountability; emotional appeal for deliberation; tensions between agonistic and diplomatic deliberation; and the public construction of general claims.
Adopting an integrative perspective, this book also looks at how affected people use published opinions to make sense of politics and produce bottom-up reasons, in addition to media-driven or top-down discourses in the public sphere. The general aim of the book is to show that the mass media have an important place in deliberative democracy and to enrich political and media theories with new findings.
"The mass media play a crucial role in shaping the public sphere, and so the prospects for deliberative democracy. Moving between sophisticated deployment of deliberative theory and compelling analysis of an intriguing set of cases, Rousiley Maia has written what should become recognized as the key work on deliberation and the media."
John Dryzek, Australian National University
"The author provides important insights into the complicated role of mass media for civic engagement in Brazil—an interesting comparison with the heavily studied cases of the United States and Western Europe."
William Gamson, Boston College
"Maia's landmark book bridges the gap between normative theories of deliberation and empirical media research. Through a thoughtful review of the vast literature and a series of intriguing case studies she convincingly shows that the mass media do function as both a site and a resource for public deliberation. She thus puts mediated deliberation firmly on the agenda for readers in the fields of communication, political science, and political philosophy alike."
Harmut Wessler, University of Mannheim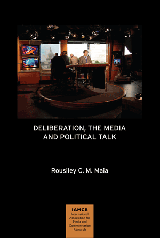 The above text is from the publisher's description of the book.
Title: Deliberation, the Media and Political Talk
Author: Rousiley C. Maia
Published: 2012
Imprint: Hampton Press
ISBN: 978-1-61289-025-8