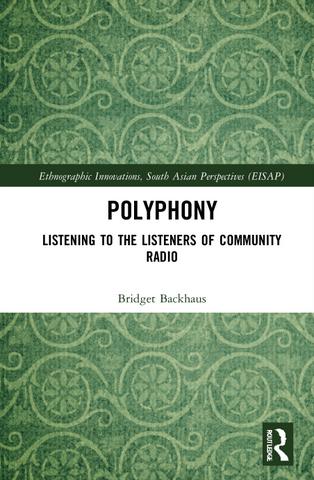 By Bridget Backhaus
This book looks at the rich and complex history of broadcasting and community broadcasting in the multicultural and multilingual milieu in India. It explores the world of community radio and how community radio broadcasters hear and speak to their audiences under the overarching theme of polyphony.
The book discusses the socio-historical contexts which allowed community radio to thrive in India. It highlights its potential to create alternative spaces of representation, and opportunity and its importance in preserving and disseminating local knowledge and traditions. The author weaves together ethnographic research and literature, as well as personal narratives and stories of those involved in the field. Further, the monograph critically examines the impact of development agendas on community projects and processes, discussing in detail the pervasiveness of the development discourse in every aspect of community radio and how it manifests on air. It also illustrates the limitations of community radio, within the context of its participation in the "spectacle of development".
Accessible and deeply insightful, this book will be of interest to researchers and students of cultural studies, sociology, social anthropology, media and communication studies, and South Asian studies.
Contents
Introduction
"Don't touch that dial"
Noise floor
Tech specs
Following the script
Caller screening
Feedback and distortion
Normalize and Amplify
Multitracking
Pass the mic
The mixdown
Bridget Backhaus is a lecturer in journalism and communications in the School of Humanities, Languages and Social Science at Griffith University, Australia, and a member of IAMCR.
The above text is from the publisher's description of the book:
Title: Polyphony: Listening to the Listeners of Community Radio
Author: Bridget Backhaus
Published: 2021
Pages: 186
Publisher: Routledge India