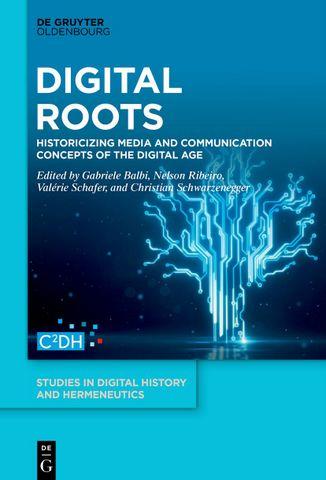 Edited by Gabriele Balbi, Nelson Ribeiro, Valérie Schafer and Christian Schwarzenegger
As media environments and communication practices evolve over time, so do theoretical concepts. This book analyzes some of the most well-known and fiercely discussed concepts of the digital age from a historical perspective, showing how many of them have pre-digital roots and how they have changed and still are constantly changing in the digital era. Written by leading authors in media and communication studies, the chapters historicize 16 concepts that have become central in the digital media literature, focusing on three main areas. The first part, Technologies and Connections, historicises concepts like network, media convergence, multimedia, interactivity and artificial intelligence. The second one is related to Agency and Politics and explores global governance, datafication, fake news, echo chambers, digital media activism. The last one, Users and Practices, is finally devoted to telepresence, digital loneliness, amateurism, user generated content, fandom and authenticity. The book aims to shed light on how concepts emerge and are co-shaped, circulated, used and reappropriated in different contexts. It argues for the need for a conceptual media and communication history that will reveal new developments without concealing continuities and it demonstrates how the analogue/digital dichotomy is often a misleading one.
Open Access available at DeGruyter (funded by the University of Luxembourg): https://www.degruyter.com/document/doi/10.1515/9783110740202/html
Contents
TECHNOLOGIES AND CONNECTIONS
Networks - Massimo Rospocher and Gabriele Balbi
Media Convergence - John O'Sullivan and Leopoldina Fortunati
Multimedia - Katie Day Good
Interactivity - Benjamin Thierry
\Artificial Intelligence - Paolo Bory, Simone Natale and Dominique Trudel
AGENCY AND POLITICS
Global Governance - Francesca Musiani and Valérie Schafer
Data(fication) - Erik Koenen, Christian Schwarzenegger and Juraj Kittler
Fake News - Monika Hanley and Allen Munoriyarwa
Echo Chambers - Maria Löblich and Niklas Venema
Digital Media Activism - Emiliano Treré and Anne Kaun
USERS AND PRACTICES
Telepresence - Jérôme Bourdon
Digital Loneliness - Edward Brennan
Amateurism - Susan Aasman, Tim van der Heijden and Tom Slootweg
User-Generated Content (UGC) - Göran Bolin
Fandom - Eleonora Benecchi and Erika Wang
Authenticity - Andreas Fickers
Gabriele Balbi is Associate Professor in Media Studies at the Institute of Media and Journalism (IMeG), USI Università della Svizzera italiana, Switzerland,
Nelson Ribeiro is Associate Professor in Communication Studies at Universidade Católica Portuguesa, Lisbon, and Chair of IAMCR's History Section.
Valérie Schafer is Professor in Contemporary European History at the C²DH (Luxembourg Centre for Contemporary and Digital History) at the University of Luxembourg, and a member of IAMCR.
Christian Schwarzenegger is visiting Professor in the Communication Science Department at University of Salzburg, and a member of IAMCR.
The above text is from the publisher's description of the book:
Title: Digital Roots: Historicizing Media and Communication Concepts of the Digital Age
Editors: Gabriele Balbi, Nelson Ribeiro, Valérie Schafer and Christian Schwarzenegger
Published: 2021
Pages: 318
Publisher: De Gruyter Oldenbourg