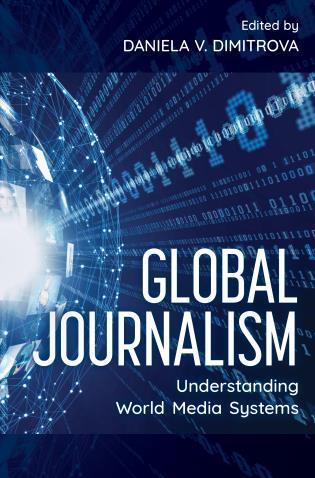 Edited by Daniela V. Dimitrova
Global Journalism: Understanding World Media Systems provides an overview of the key issues in global journalism today and traces how media systems have evolved over time in different world regions. Taking into account local context as well as technological change across media industries, the book offers an up-to-date, thorough overview of media developments in all world regions embedded in their unique political, cultural and economic context.
Covering theoretical foundations of global journalism, from the classic Four Theories of the Press to more nuanced media models, this text proposes a framework for studying world media systems. Contributed chapters cover a wide range of topics, including media freedom, global news cultures, professional ethics and responsibilities, and education of global journalists, as well as the role of technology and issues such as fake news, soft power and public diplomacy, foreign news reporting and international news flow.
Contents
Chapter 1 - A Framework for the Study of Global Media Systems, Daniela V. Dimitrova
Part I: KEY CONCEPTS
Chapter 2 - International News Flow in the Digital Age, Elad Segev
Chapter 3 - Technology's Role in Global Journalism and Communication, H. Denis Wu
Chapter 4 - Media Freedom Around the World, Jane Whyatt
Chapter 5 - Exploring Journalistic Cultures, Patric Raemy and Lea Hellmueller
Chapter 6 - Global Journalism and Mass Communication Education in the Digital Era, Tudor Vlad
Chapter 7 - Navigating the Uncharted Waters of Journalism Ethics and Responsibilities in a 21st Century Information Age, Katerina Tsetsura and Dean Kruckeberg
Part II: WORLD REGIONS
Chapter 8 - Media in Sub-Saharan Africa, Yusuf Kalyango, Jr.
Chapter 9 - Media in the Middle East & North Africa (MENA), Claudia Kozman
Chapter 10 - Media in Central & Eastern Europe, Ioana A. Coman and Christopher Karadjov
Chapter 11 - Media in Western & Northern Europe, Elisabeth Fondren
Chapter 12 - Media in Asia & the Pacific, Nakho Kim
Chapter 13 - Media in Latin America, Manuel Alejandro Guerrero
Chapter 14 - Media in North America, Zac Gershberg and D. Jasun Carr
Part III: CURRENT ISSUES
Chapter 15 - The digital transformation of international and national news agencies: Challenges facing AFP, AP, and TASS, Terhi Rantanen and Anthony Kelly
Chapter 16 - Covering International Conflicts and Crises, Raluca Cozma
Chapter 17 - Public Diplomacy and International Communication, Suman Lee
Index
Daniela V. Dimitrova is professor in the Greenlee School of Journalism and Communication at Iowa State University, and a member of IAMCR.
The above text is from the publisher's description of the book:
Title: Global Journalism: Understanding World Media Systems
Editor: Daniela V. Dimitrova
Published: 2021
Pages: 258
Publisher: Rowman & Littlefield