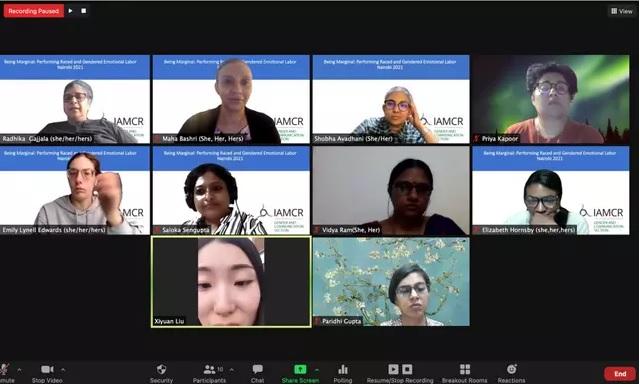 "Being Marginal - Performing Raced and Gendered Labour"
On the 3rd of July 2021, Dr. Maha Bashri of United Arab Emirates University and Dr. Shobha Avadhani of National University of Singapore held the Being Marginal Symposium, under the umbrella of the Gender and Communication Section of IAMCR. The discussant was Professor Radhika Gajjala of Bowling Green State University.
The symposium was officially opened by Dr. Wajiha Raza Rizvi of Beaconhouse National University. Six scholars from across the world presented papers on the raced and gendered emotional labour of women in the margins of the communication discipline in academia. Dr. Elizabeth Hornsby, Dr. Liu Xiyuan, Dr. Vidya Ram, Dr. Priya Kapoor, Dr. Paridhi Gupta, and Ms. Saloka Sengupta shared their perspectives, contexts and methodologies, and stimulated vibrant discussion about the layered nature of privilege and marginalisation. The design of an innovative online model Drs. Bashri and Avadhani created a space and future vision for intimate, impactful, and important conversations.
The symposium recording can be accessed at: https://beingmarginalsyposium2021.wordpress.com/gallery/