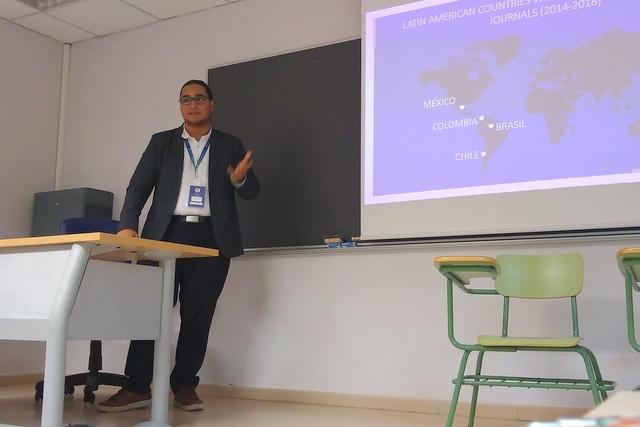 Joseph Crawford, a PhD student at Universidad del Norte, Colombia, received a travel grant to present his paper "Dynamics of indexed scientific publications: Experiences of Latin American Communication researchers" to the Emerging Scholars Network Section at IAMCR 2019.
In this article he reflects on the experience both from the human and academic perspectives:
My experience at the 2019 IAMCR conference in Madrid was a key moment for my academic career. I first attended an IAMCR conference in 2017, in Cartagena. Back then I didn't know about the association, but decided to participate since it was held in a nearby city in Colombia. I'm glad I attended, because I was blown away by the myriad of fascinating research topics found, unlike local events which I am used to, that typically focus on a handful of themes. Since then, I became a member of the association and looked for the opportunity to present my work at one of its events, which I was finally able to do this year.
I teach undergrad courses in one university while studying for a PhD in Communication in another, all thanks to a national scholarship which covers the tuition and some living costs, and wouldn't normally include funds to attend academic events. That became a problem, since presenting part of my doctoral thesis in a reputable International Conference is one of my responsibilities as a national scholarship recipient. While I did have enough to pay for accommodation in Spain, I couldn't afford the airline tickets. That's where the generous support of the IAMCR travel grant initiative came in, which allowed me to not only present my work, "Dynamics of indexed scientific publications: Experiences of Latin American Communication researchers", but experience this outstanding event again, albeit this time I could actually present my work, for which I am deeply grateful.
The Emerging Scholars Network, where I presented, turned out to be a fascinating experience right from the first day of pre-conferences. My work focuses on the different challenges that emerging academics face, and I felt like I was able to connect with researchers from all over the world, many of whom I shared similar experiences in regards to pursuing a PhD. This left a deep impression in me as well as a certain sense of camaraderie with these scholars that, geographically speaking, should have little in common with me. The sheer diversity of experiences shared throughout the event was both a truly humbling and an empowering experience, one that refueled my passion for the complexities of communication research.
Participating in an event like this really broadens one's academic horizons, making valuable acquaintances, and learning from others about how they employ different research methodologies according to their unique contexts. Not only was I able to bring back updated information for both my classes and my thesis, but the feedback and discussions in every presentation were excellent and insightful, providing fresh perspectives for my research topics. I also got to try local delicacies (the paella at the gala was exquisite), do a bit of sightseeing with fellow colleagues, and get a feel for the Spanish culture. All in all, it was truly a memorable experience. Those few days felt much longer than they should have, much like the Spanish summer nights, which I have now embedded in my heart thanks to IAMCR.
Joseph Crawford
---
IAMCR travel grants are funded with a percentage of all IAMCR membership payments plus the voluntary contributions of IAMCR members and supporters.
Please consider making a donation to the travel grant fund. It's a great way to encourage emerging scholars and new perspectives within IAMCR.
| | |
| --- | --- |
| Donate in Euros | Donate in USD |
| | |