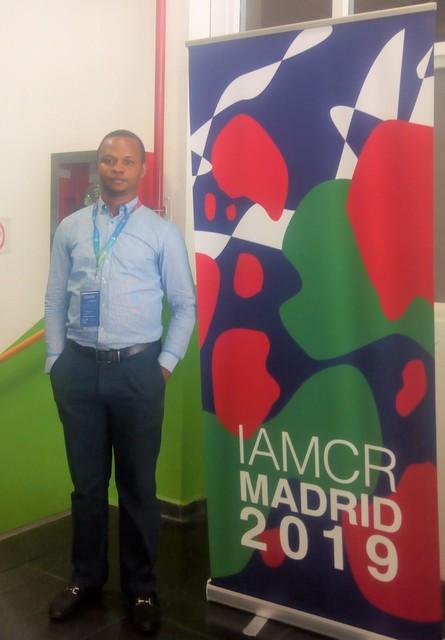 Victor C. Eze, a Doctoral Student in Communication and Language Arts at the University of Ibadan in Nigeria, received a travel grant to attend IAMCR 2019 in Madrid. He presented his paper "Examining Selected Newspapers' Framing of the Renewed Biafran Agitation in Nigeria (2016-2017)" to the Crisis, Security and Conflict Communication Working Group.
In the article below, he tells us about the experience and how it renewed his energy for undertaking research.
I have desired to attend the yearly IAMCR annual conference right from the day I became a member in 2016. My dream came to reality in 2019 as my abstract was not only accepted, I got a travel grant which subsidized my travel expenses.
Being at IAMCR Madrid 2019 was an awesome experience for several reasons. In the first place, being a communication researcher, I found it great to come in contact with researchers and scholars from different countries with different outlooks on life. The diversity of the conference participants was amazing. I presented a paper titled: "Selected Newspapers Framing of the Renewed Biafran Agitation (2016-2017)" The study found that the renewed Biafran agitation in Nigeria is given coverage by the print media with emphasis on the human rights abuse meted on the agitators by the government. As part of my experience in the conference, I also marveled at the expertise of the conference participants as I learnt a lot from the different panels and sessions I attended during the conference. In addition, it was the first time I witnessed the gathering of such a large number of communication scholars, researchers, government and non-governmental agents to discuss the issue of human dignity vis-a-vis communication. The entire conference etched in me a wonderful experience and renewed energy for undertaking research for the advancement of society.
I am very grateful to the IAMCR 2019 organisers and to IAMCR officials for availing me both the opportunity and the travel grant to attend the 2019 conference. I look forward to attending future conferences and hope to contribute my own quota in the progress of IAMCR.
Thank you IAMCR.
Victor C. Eze
---
IAMCR travel grants are funded with a percentage of all IAMCR membership payments plus the voluntary contributions of IAMCR members and supporters.
Please consider making a donation to the travel grant fund. It's a great way to encourage emerging scholars and new perspectives within IAMCR.
| | |
| --- | --- |
| Donate in Euros | Donate in USD |
| | |