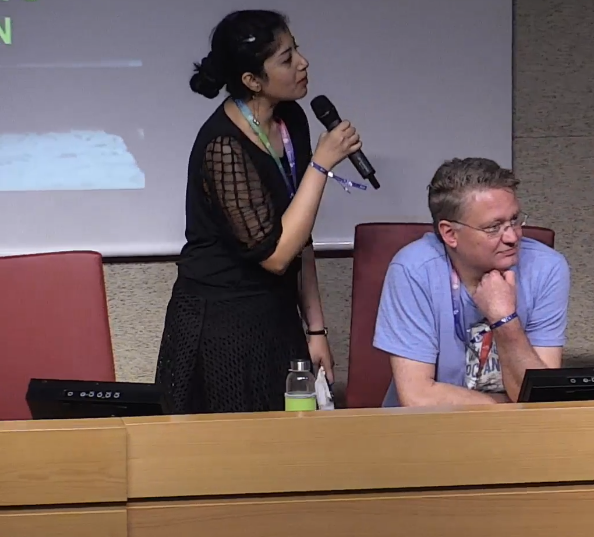 Sadia Jamil, an independent researcher from Pakistan received a travel grant to attend IAMCR 2019 in Madrid. She presented her paper "A widening digital divide and its impacts on existing social inequalities and democracy in Pakistan" to the Digital Divide Working Group. She was also discussant at the session titled "Journalism and Political Implications in the Digital Era" of the Journalism Research and Education Section.
I am currently serving IAMCR as the Co Vice-Chair of the Journalism Research and Education Section and I am glad to share that I received travel grant to attend the 2019 conference. Since October 2018, I have been doing a research project on digital inequalities in Pakistan at my personal expense; therefore, I needed the travel grant to adjust the budget for my fieldwork-related travels. Fortunately, my request for travel grant was approved and was able to present my first ever paper in the Digital Divide Working Group entitled "A widening digital divide and its implications for democracy and social inequalities in Pakistan".
This year's conference was also very special to me because of many other reasons. For example, IAMCR's 2019 conference in Madrid, Spain attracted impressive attention. More than 3,700 abstracts were submitted (from 104 different countries), when the organization had expected between 1,800 and 2,500. IAMCR's 32 thematic sections and working groups, including Journalism Research and Education Section, managed a rigorous peer review of the proposals and more that 1,700 papers were presented in Madrid. So, I was excited to attend the biggest IAMCR conference in its history. Additionally, I was the organizer for Journalism Research and Education Section's Best Paper Award and Book Launch Event 2019. I organized this event on the evening of 8th July and the full recording of this event can be watched at: JRE Best paper award and book launch event 2019. Following this event, JRE section decided to continue the JRE award and book launch event next year. And the Section's heads held meetings to make section's tasks more organized for IAMCR's 2020 conference.
Thus, I would say that this year's conference was truly a rich experience for me in terms of participation in insightful sessions, research and publication collaboration and academic networking. And this was not at all possible without the support of IAMCR through providing me the travel grant. Last but not least, I would like to convey my gratitude to all IAMCR members, who support the organization academically as well as financially through their membership fee and donations, and which makes the issuance of travel grants possible for IAMCR's executive heads. My fingers are crossed in the hope that I can serve the organization and remain part of IAMCR's community for a long time.
Sadia Jamil
---
IAMCR travel grants are funded with a percentage of all IAMCR membership payments plus the voluntary contributions of IAMCR members and supporters.
Please consider making a donation to the travel grant fund. It's a great way to encourage emerging scholars and new perspectives within IAMCR.
| | |
| --- | --- |
| Donate in Euros | Donate in USD |
| | |