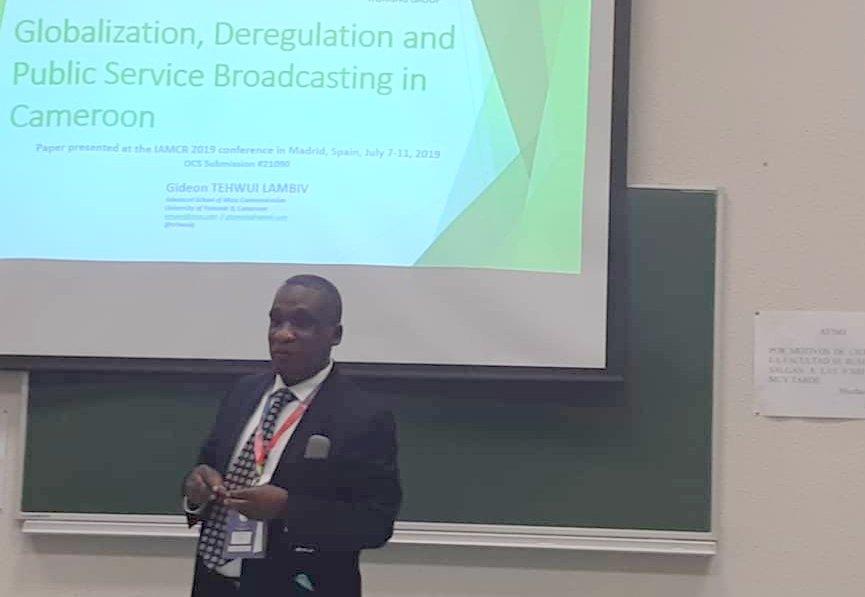 Gideon Tehwui Lambiv is a PhD student and Assistant Lecturer at the School of Mass Communication (ASMAC/ESSTIC) of the University of Yaounde II in Cameroon. He was awarded a travel grant to present his paper "Globalization, Deregulation and Public Service Broadcasting in Cameroon" to the Public Service Media Policies Working Group.
In this article, he reflects about his experience at IAMCR 2019:
The Madrid 2019 IAMCR Conference was the first I have attended since Professor Daya Thussu introduced the association to me and I became a member four years ago. I had submitted an abstract on "Globalization, Deregulation and Public Service Broadcasting in Cameroon", for the 2018 conference in Oregon which was accepted. Unfortunately I could not attend because I was unable to fund my travel to the US. I re-submitted the abstract for the 2019 conference in Madrid which was accepted for presentation by the Public Service Media Policies Working Group. This time, I had a travel grant from the IAMCR which facilitated my participation.
During the morning session of Tuesday July 9, 2019 I presented my article. The principal research issue that this article examined was how globalization and deregulation have affected public service broadcasting in Cameroon. I revisited the role and performance of the public service broadcaster in Cameroon; and whether these have changed because of the new liberalized framework. After tracing the development of broadcasting in Cameroon wherein the public service broadcaster was the main and only actor, I then looked at the new situation where others have come in. I found out that the public service broadcaster in Cameroon, CRTV had lost a significant share of its urban audience and advertisement to private broadcasters, particularly within the first years of liberalization when its urban audience share dropped to 40%, while private broadcasters had 38.5%. After some changes in the areas of programmes, programming and technology, amongst others, its audience share has increased by 20%, three years into liberalization.
I have been a practising journalist for over 20 years. In 2008, in an effort to give back to the school that trained me in journalism, I started sharing my professional experience by assisting in the training of future journalists at the University of Yaounde's School of Mass Communication. This has rekindled my interest in research and teaching!
I am indeed deeply indebted to the IAMCR Travel Grant scheme which made it possible for me to participate at the 2019 Conference that has given me more impetus to pursue my 'give back' journey. The Madrid 2019 IAMCR Conference provided me with a golden opportunity to meet and interact with some of the authoritative people in the media and communication academia and finest minds in communication research and teaching. It was indeed a great moment to make new contacts and a wonderful reunion with some of my lecturers with whom I had separated from since 2004 after my studies for the MA at Westminster University in London!
If wishes were horses, then I will not want to miss any IAMCR conference!
Gideon Tehwui Lambiv
---
IAMCR travel grants are funded with a percentage of all IAMCR membership payments plus the voluntary contributions of IAMCR members and supporters.
Please consider making a donation to the travel grant fund. It's a great way to encourage emerging scholars and new perspectives within IAMCR.
| | |
| --- | --- |
| Donate in Euros | Donate in USD |
| | |