Theories and Models of Communication

Edited by Paul Cobley and Peter J. Schulz
This volume offers an overview of the diversity of perspectives on communication: including analyses in terms of biology, sociality, economics, norms and human development. It includes general social science approaches to communication, such as those found in systems theory and cultural theory, as well as perspectives more specifically related to communication acts, such as linguistics and cognition.
The volume also features chapters which focus specifically on approaches to what are generally seen as the five crucial elements of the communication process: communicator, message, receiver, channel, effects. The scope of the contributions is global, and the volume is relevant to both the empirical and the philosophical traditions in social science. Designed as a stand-alone collection to engage undergraduates as well as postgraduates and academics, this is also the first book in, and an introduction to, the de Gruyter Mouton multi-volume Handbooks of Communication Science.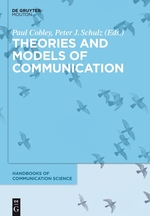 The above text is from the publisher's description of the book.
Title: Theories and Models of Communication
Editors: Paul Cobley and Peter J. Schulz
Published:  2013
Imprint: De Gruyter Mouton
Pages: 442
ISBN: 978-3-11-024044-3
See other books by IAMCR members...