Buy tickets for the Fiesta in the Plaza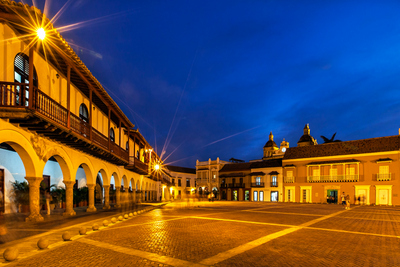 A conference party will be held on Wednesday 19 July starting at 18:00. The Fiesta in the Plaza, in Cartagena's famous Plaza de la Aduana with one of the best musical groups in the city and a show with "Ekobios Danza", winner of 17 Congos de Oro in Baranquilla's Carnival. Great music, dancing, food and drinks - all for the price of dinner. A great opportunity to enjoy the Caribbean by night with your friends and colleagues!
If you didn't buy a ticket when you registered or if you want to buy tickets for friends or colleagues, you can buy them here for 20 USD each until 1 July.
La Fiesta en la Plaza
El miércoles 19 de julio a partir de las 18:00hs, en la famosa Plaza de la Aduana de Cartagena, el congreso celebrará la Fiesta en la Plaza. Le invitamos a disfrutar de una de las mejores orquestas que tiene la ciudad, y de la presentación del grupo folclórico Ekobios Danza, ganador de 17 Congos de Oro en el Carnaval de Barranquilla. La mejor música, la mejor gastronomía cartagenera y las mejores bebidas por el precio de una cena rápida en Cartagena. Es una gran oportunidad de disfrutar el Caribe nocturno en plenitud con sus amigos y colegas!!!
Si no pagó su asistencia al inscribirse, o si desea adquirir una entrada para algún amigo o acompañante, podrá hacerlo aquí hasta el 1 de julio por US$20 por persona.