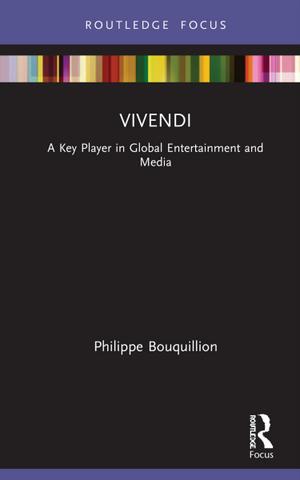 By Philippe Bouquillion
This book identifies and analyses the main socio-economic trends that characterize Vivendi, the French mass media conglomerate, and explores how they have oriented its development and evolution.
Philippe Bouquillion explores the industrial, financial, globalization and public policy issues in the various sectors in which Vivendi is involved, paying particular attention to recorded music, pay television, publishing, video games, advertising and telecommunications. He examines Vivendi's role as a key global player in the entertainment and cultural industries as a result of its established position as world number one in recorded music via Universal Music Group. He also highlights Vivendi's involvement in various national markets, including their notable strategies in African markets and their significance in the telecommunications and television markets in Italy.
This book will be of interest to students, scholars and researchers of global media, media and cultural industries, and political economy.
Contents
Introduction
History & context
Economic profile
Political profile
Cultural Profile
Philippe Bouquillion is Professor of Communication at University Paris Sorbonne Nord and a Researcher at the Laboratory of Excellence (Cultural Industries and Artistic Creation). He is also a member of IAMCR.
The above text is from the publisher's description of the book:
Title: Vivendi: A Key Player in Global Entertainment and Media
Author: Philippe Bouquillion
Published: 2021
Pages: 126
Publisher: Routledge