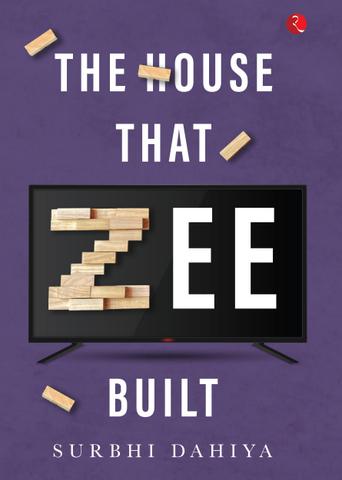 By Surbhi Dahiya
The House That Zee Built is as much a telling of the legacy of India's pioneering media enterprise as it is about the people and the strategies behind it.
The story starts in 1890 in an undivided Punjab and looks at the extremely humble beginnings of the Goenka family. From the family's successful agri-business to an ambitious Subhash Chandra creating India's first satellite television channel, this book is about the metamorphosis of a family business into a global conglomerate known as Zee. The inherently risky business idea became such a national phenomenon that it spawned numerous similar television channels and even made global giants like Sony and News Corporation view India as a major television market.
Offering an incisive look into the creation and sustenance of a brand that transcends boundaries, this is also a chronicle aimed at capturing the very essence of the phenomenon called Zee and the entrepreneurial foresight of Subhash Chandra and his sons Punit and Amit Goenka. It offers crisp and memorable insights into the inner workings of the media giant.
Devoid of tilted commentary, the book sheds equal light upon the institution's upheavals and future challenges. The real anecdotes, exclusive inputs by the core team of Zee and the detailed analysis of the media world make this an essential read.
Surbhi Dahiya is professor and course director in the Department of English Journalism at Indian Institute of Mass Communication (IIMC) in New Delhi, and one of IAMCR's Ambassadors for India.
The above text is from the publisher's description of the book:
Title: The House That Zee Built
Author: Surbhi Dahiya
Published: 2021
Pages: 396
Publisher: Rupa Publications