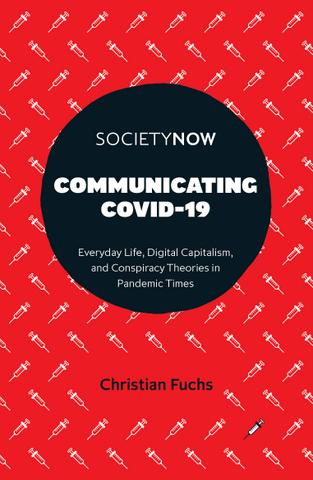 By Christian Fuchs
The COVID-19 pandemic crisis has changed the way we live and communicate. The phases of lockdown brought about by the pandemic fundamentally changed the way we work, lead our everyday lives, and how we communicate, resulting in Internet platforms becoming more important than ever before. Communicating COVID-19 explores the impact of these changes on society and the way we communicate, and the effect this has had on the spread of misinformation.
Critical communication and Internet scholar Christian Fuchs analyses the changes of everyday communication in the COVID-19 crisis and how misinformation has spread online throughout the pandemic. He explores the foundations and rapid spread of conspiracy theories and anti-vaccination discourse on the Internet, paying particular attention to the vast amount of COVID-19 conspiracy theories about Bill Gates. He also interrogates Internet users' reactions to these COVID-19 conspiracy theories as well as how Donald Trump communicated about COVID-19 on Twitter during the final year of his Presidency.
Communicating COVID-19 is an essential work for anyone seeking to understand the role of digital technologies, changes in communication and the Internet, and the spread of conspiracy theories in the context of COVID-19.
Contents
Chapter 1. Introduction: Pandemic Times
Chapter 2. Everyday Life and Everyday Communication in Coronavirus Capitalism
Chapter 3. Conspiracy Theories as Ideology
Chapter 4. Bill Gates Conspiracy Theories as Ideology in the Context of the COVID-19 Crisis
Chapter 5. Users' Reactions to COVID-19 Conspiracy Theories on Social Media
Chapter 6. Donald Trump and COVID-19 on Twitter
Chapter 7. Conclusion: Digital Communication in Pandemic Times and Commontopia as the Potential Future of Communication and Society
Christian Fuchs is Professor of media and communication studies at the University of Westminster, UK, and member of IAMCR.
The above text is from the publisher's description of the book:
Title: Communicating COVID-19: Everyday Life, Digital Capitalism, and Conspiracy Theories in Pandemic Times
Author: Christian Fuchs
Published: 2021
Pages: 336
Publisher: Emerald Publishing Limited