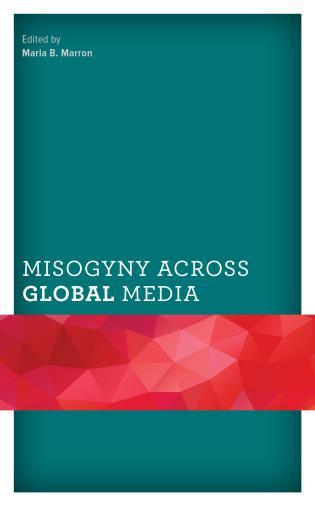 Edited by Maria B. Marron
Misogyny across Global Media argues that, although women's experiences under misogyny are by no means universal, patriarchal social and institutional systems facilitate gender-based hostility across the globe. Contributors demonstrate how systemic misogyny and power inequities are at the root of women's suffering at the hands of misogyny, with consequences ranging from sexual harassment to rape and even murder. This book provides an interdisciplinary overview of systemic misogyny worldwide, analyzing specific cases such as the controversial Child Marriage Act in Bangladesh, sexual harassment in India's Bollywood culture, rape culture among military forces in Jammu and Kashmir, the murder of female students in Kenya, and femicide in Turkey. This collection discusses how misogyny creates a clash of cultures between men and women, the powerful and the oppressed, and the conservative and the liberal, and uncovers the evils that are perpetrated against women worldwide as a result of systemic misogyny. Scholars of gender studies, media studies, and cultural studies will find this book particularly useful.
Contents
Preface
Chapter 1: #WhatNext: Political Implications of the #MeToo Campaign Aftermath - Bernadette Ann Bowen
Chapter 2: From Sexual Explicitness to Invisibility in Resistance Art: Coloniality, Rape Culture, and Technology - Chloe S. Georas
Chapter 3: The Artists, the Institutions, and the Accusations: The #MeToo Movement ant the ArtWorld- Becky Beamer
Chapter 4: Women as 'Sites of Gendered Politics': Misogyny of Religions in Armed Conflict - Tamanna M. Shah
Chapter 5: Misogyny and Philogyny in Music: Shakira, Rihanna, and Madonna - Ali Kumael Rizvi and Wajiha Raza Rizvi
Chapter 6: "The R in R&B": Rape, Race, and Representation in Surviving R. Kelly - Adelina Mbinjama-Gamatham, Thabo Ramphobole, and Nancy Morkel
Chapter 7: Media Coverage of the Misogynistic and Controversial Child Marriage Restraint Act (2017) in Bangladesh - Masudul Biswas
Chapter 8: Misogyny and Social Ethics: Responses in Vedic and Other Texts - Nikhil Moro
Chapter 9: Mitigating Misogyny in India: Theorizing Digital-Age Feminist Activism in the World's Largest Democracy - Deb Aikat
Chapter 10: News Sourcing, Gender, and Misogyny in #MeToo India: A Content Analysis of the #MeTo Movement in Indian Newspapers - Shreenita Ghosh and Kruthika Kamath
Chapter 11: Self-Acceptance and Hip-Hop Music: An Exploration among Female Students at Delhi University - Sonali Srivastav
Chapter 12: Negotiating Gender Spaces in Mainstream Bollywood Narratives: A Thematic Discourse Analysis of Female Representation - Sana Fatima and K. M. Baharul Islam
Chapter 13: Representations of Misogyny in the Kenyan Media: A Case Study of the Online Versions of the Nairobian and the Star Newspapers - Muthoni E. King'ori and Joseph Nyanoti
Chapter 14: 'The Media are Male': The Violence of Women's Representation in Zimbabwean Media - Khanyile Mlotshwa
Chapter 15: Sexist Hate Speech and the Reproduction of Power Inequalities on Social Media: The Murder of Ceren Damar in Turkey - Cemile Tokgoz
Chapter 16: The Representation of Misogyny and #MeToo in the English and Irish Press - Maria B. Marron and Lori F. Brost
Glossary
About the Contributors
Maria B. Marron is professor of journalism and mass communications in the College of Journalism and Mass Communications at the University of Nebraska-Lincoln, and member of IAMCR.
The above text is from the publisher's description of the book:
Title: Misogyny across Global Media
Editor: Maria B. Marron
Published: 2021
Pages: 342
Publisher: Lexington Books