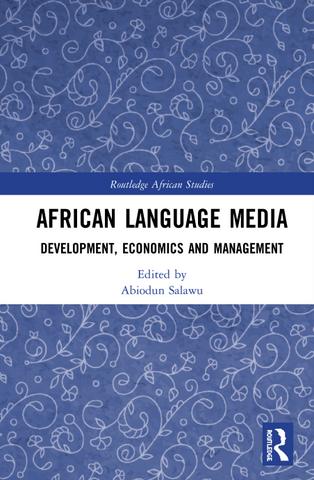 Edited By Abiodun Salawu
This edited volume considers why the African language press is unstable and what can be done to develop quality African language journalism into a sustainable business.
Providing an overview of the African language journalism landscape, this book examines the challenges of operating sustainable African language media businesses. The chapters explore the political economy and management of African language media and consider case studies of the successes and failures of African language newspapers, as well as the challenges of developing quality journalism.
Covering print and digital newspapers and broadcast journalism, this book will be of interest to scholars of media and journalism in Africa.
Contents
Introduction Abiodun Salawu
Part1: Political Economy of African Language Media
1. The Political Economy of Indigenous Language Media in Nigeria and the Challenge of Survival in Digital Age - Toyosi Olugbenga Owolabi
2. Language Politics, Political Economy and Sustainability of African language press in Zimbabwe - Phillip Mpofu
Part 2:Mixed Bag – Failure and Success of African Language Newspapers
3. In the Dead End: The Decline of the Indigenous Language Press in Post-colonial Zimbabwe - Allen Munoriyarwa
4. Making sense of Mmega Dikgang's Shift from Setswana to English - Tshepang Bright Molale and Phillip Mpofu
5. The Extinction of siSwati-language Newspapers in the Kingdom of Eswatini - Maxwell V. Mthembu and Carolyne M. Lunga
6. Indigenous Language Media in Zimbabwe - Kwayedza and Umthunywa - and the struggle for survival - Albert Chibuwe
7. Indigenous Language Media and the Survival Game: the Alaroye Newspaper Example - Obasanjo Joseph Oyedele and Jendele Hungbo
Part 3: Management and Sustainability of African Language Media
8. Reimagining the Future of Indigenous Language Presses in the Digital Era - Kehinde Oyesomi, Kevin Onyenankeya and Oluwayemisi Onyenankeya
9. A Survey of Management, Organisation, Structure, Content and Column of the Contemporary - Yoruba Newspaper Tola Osunuga
10. Sustaining African Language Newspaper Business: The Yoruba Language Example from Nigeria - Clement Adeniyi Akangbe
Part 4: Towards quality – African Language Journalism Development
11.: The Significance of African Storytelling in Journalism - Wendpanga Eric Segueda and David Anderson Hooker
12. African Language Journalism in Ghana and the Quest for Quality Journalism: An Investigation of Peace - FM Akpojivi Ufuoma and Fosu Modestus
13. Editorial Policies and the IsiXhosa Language Newspapers at Caxton Media and Independent News Media - Mbuyekezo Njeje and Albert Chibuwe
Part 5: Focus on the Broadcast Media
14. News Syndication in Local Language Broadcasting in South Africa: Hegemonic Infiltration or Hybridity? - Tendai Chari
Part 6: Borrowing a Leaf
15. African Language Newspaper Sustainability: Lessons to Learn from Asia - Abiodun Salawu
Abiodun Salawu is Professor and Director, Indigenous Language Media in Africa Research Entity, North-West University Mmabatho, North-West, South Africa and Vice-chair of IAMCR's Journalism Research and Education Section.
The above text is from the publisher's description of the book:
Title: African Language Media: Development, Economics and Management
Editor: Abiodun Salawu
Published: 2020
Pages: 308
Publisher: Routledge