Register for JRE Books Launch 2022 Webinar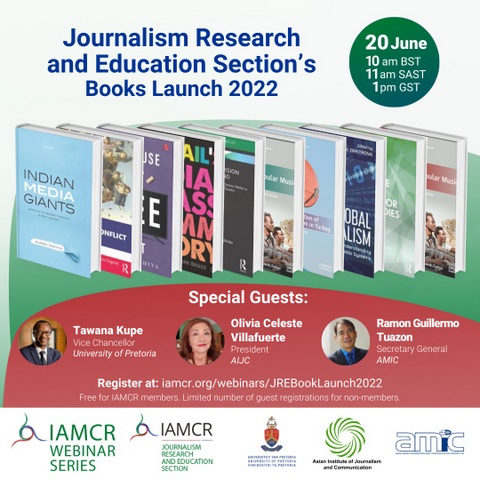 This event was held on 20 June 2022

To register you must be a member of IAMCR and logged in to your account.
Title: Journalism Research and Education Section's Books - Launch 2022
Date & time: 20 June 2022 @ 09h00 UTC / 05h00 New York / 10h00 London / 11h00 Paris / 12h00 Nairobi / 14h30 Kolkata / 17h00 Beijing.
Sponsored by: Journalism Research and Education Section, Asian Media Information and Communication Centre (AMIC), Asian Institute of Journalism and Communication (AIJC), University of Pretoria.
Moderator: Sadia Jamil (Chair, JRE Section)
Discussant: Saba Bebwai (University Technology Sydney)
Location: The meeting will take place on Zoom. Pre-registered participants will receive their personal invitations 24 hours before the webinar begins.
Who can participate: The webinar is free for all IAMCR members but space is restricted. A limited number of guests invitations may be available. Send an email with the subject "guest list for the JRE webinar" to register4iamcrwebinar [at] gmail.com (subject: guest%20list%20for%20the%20JRE%20webinar) to request to be added to the guest list.
Registration: There is no charge for IAMCR members but pre-registration is required by 19 June. To register, complete the form below. You must log in to your account in order to see and complete the form.
Not sure if you're a member? Check the membership directory.
If you are not a member of IAMCR, you can join here.
About the series: The IAMCR Webinar Series is a new initiative that aims to open-up channels for engagement and participation in addition to the annual conference, while echoing the great work that is done by Sections/Working Groups and IAMCR members. The series will include presentations, debates, book and project launches. The format is flexible, the connection is what matters. Join us!
---