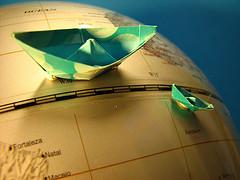 A record number of 27 travel grants worth almost US$40,000 have been offered to early-stage scholars who are members of IAMCR from low and middle income countries. The winners include 19 women and 8 men from 13 different countries. They will present papers to 17 different sections and working groups. The award winners were selected from almost 100 applicants.
IAMCR expresses its sincere thanks for the interest demonstrated by all the applicants. To those who who were not selected, we wish you the best of luck in your efforts to find alternative funding. To those who were, congratulations! We look forward to welcoming you in Leicester.
We also thank the many IAMCR members who contributed to the award when they paid their 2016 membership fees.
The 2016 travel grant awardees are:
Jorge Anaya Martínez, Mexico, UNAM, Comic Art Working Group
Ekaterine Basilaia, Georgia, University of Antwerp, Environment, Science and Risk Communication
Renata da Silva Souza, Brazil, Universidade Federal do Rio de Janeiro, Community Communication Section
Mary Christabel Dalima, Sri Lanka, MBC/MTV, College of Journalism, Community Communication Section
Ifeoma Dunu, Nigeria, Nnamdi Azikiwe University, Participatory Communication Research Section
Sanabelle Ebrahim, South Africa, University of KwaZulu-Natal, Comic Art Working Group
Miral El Ashry, Egypt, Canadian International College, Law Section
Dorismilda Flores, Mexico, ITESO / UAA, Emerging Scholars Network, Community Communication Section
Deepti Ganapathy, India, University of Mysore, International Communication Section
Chun Gurung, Nepal, Kathmandu University, Crisis Communication Working Group
Nithila Kanagasabai, India, Tata Institute of Social Sciences, Gender and Communication Section
Andrea Leite, Brazil, University of São Paulo, Environment, Digital Divide Working Group
Andrea Lorenzo Gomez, Mexico, Universidad Iberoamericana, Popular Culture Working Group
Heba Metwally, Egypt, Cairo University, Journalism Research Education
Sumit Narula, India, Amity University, Media Education Research Section
Uma Shankar Pandey, India, Surendranath College for Women, Journalism Research and Education Section, Digital Divide Working Group
Trang Pham, Vietnam, University of Calgary, Communication Policy & Technology Section
Niranjana Prem, India, Tata Institute of Social Sciences, Digital Divide Working Group
Azmat Rasul, Pakistan, National College of Arts, Journalism Research and Education
Jhessica Reia, Brazil, FGV, Emerging Scholars Network
Wajiha Raza Rizvi, Pakistan, Film Museum Society, Gender and Communication Section
Nikhil Thomas Titus, India, Tata Institute of Social Sciences, Mediated Communication, Public Opinion and Society Section
Damien Tomaselli, South Africa, University of KwaZulu-Natal, Comic Art Working Group
Elira Turdubaeva, Kyrgyzstan, American University of Central Asia, Post-Socialist and Post-Authoritarian Communication Working Group
Chikezie Uzuegbunam, Nigeria, Nnamdi Azikiwe University, Emerging Scholars Network
Mary Wambaria, Kenya, Kenya Institute of Curriculum Development, Media Education Research Section
Yaping Xu, China, China University of Political Science and Law, Visual Culture Working Group