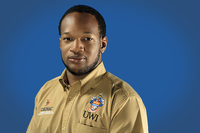 Alpha Obika is a PhD candidate at the Caribbean School of Media and Communication, University of the West Indies, in Jamaica. He received a travel grant to present his paper "Postcolonial Governmentality of Communication: Theorizing ICT Governance in a Caribbean Context" to the Emerging Scholars Network Section at IAMCR 2019.
In his note, he tells us how this experience will contribute to his current and future work:
IAMCR 2019 was the best academic conference I have attended to date. The Travel Grant provided a golden opportunity to present work emerging out of my PhD thesis which examined media and communication governance in the small island developing states of the Caribbean (with a focus on Jamaica and Trinidad and Tobago). I must thank the Emerging Scholars Network for the opportunity to present my research and it was certainly an honour having Professor Robin Mansell as a discussant who gave invaluable feedback and encouragement. IAMCR 2019 was an academically enriching experience.
Networking with elite and emerging scholars from every corner of the globe about international communication issues was an opportunity that I grasped wholeheartedly. IAMCR must be commended for the wonderfully organized social events that provided ample opportunities for networking and socialising amongst the scholars. Madrid was also an exciting city to explore with countless sites and sounds that kept me entertained. I enjoyed Madrid. As I look to the future, I am excited about the prospect of presenting at future IAMCR conferences. I must once again thank all the organizing members of the IAMCR who made the arrangements for the travel grant, and ensured that my experience was seamless, enjoyable and memorable.
Alpha Obika
---
IAMCR travel grants are funded with a percentage of all IAMCR membership payments plus the voluntary contributions of IAMCR members and supporters.
Please consider making a donation to the travel grant fund. It's a great way to encourage emerging scholars and new perspectives within IAMCR.
| | |
| --- | --- |
| Donate in Euros | Donate in USD |
| | |