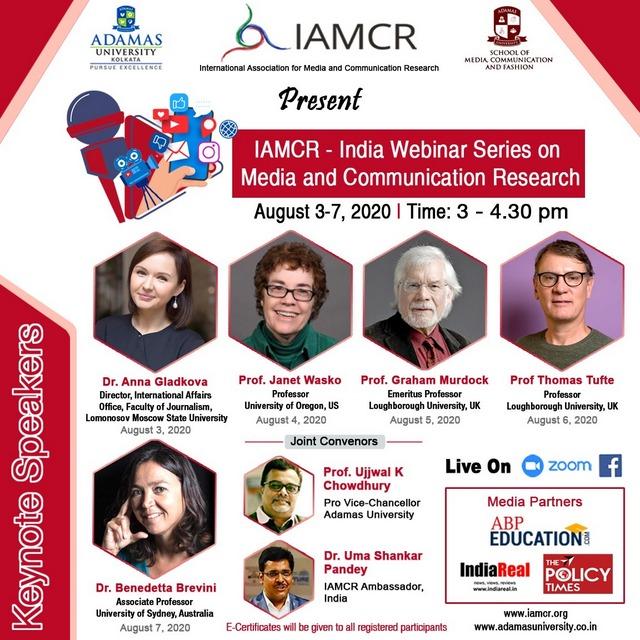 Co-organised by Uma Shankar Pandey, IAMCR's ambassador in India, and Ujjwal K. Chowdhury, Adamas University Kolkata, the IAMCR-India webinar series on Media and Communication Research will be held from 3 to 7 August 2020. The webinar series will be hosted on Zoom and live streamed on Facebook and is open to both members and non-members of IAMCR.
This is the second activity organised by Uma Shankar Pandey, as part of the Ambassador initiative, the first one being a regional conference in India held in 2016 titled The International Conference on News Literacy.
Watch this video for more information about the webinar series.
Read a series of articles about the webinars published in The Policy Times
Schedule
Monday 3 August, 03:00 PM - Dr. Anna Gladkova
Topic: Theoretical and Empirical Approaches to Digital Divide
Session Chair: Prof Usha Raman, University of Hyderabad, India
Watch this webinar
Tuesday 4 August, 07:30 PM - Prof. Janet Wasko
Topic: Investigating Global Media Giants
Session Chair: Prof Ruchi Kher Jaggi, Symbiosis International University, India
Watch this webinar
Wednesday 5 August, 03:00 PM - Prof. Graham Murdock
Topic: Virtual Ethnography: Promises and Problems
Session Chair: Prof Biswajit Das, CCMG, Jamia Millia Islamia, India
Watch this webinar
Thursday 6 August, 03:00 PM - Prof. Thomas Tufte
Topic: Researching mobile phone use among young men in Kenya; Using Quasi Ethnography
Session Chair: Prof Sunil Kanta Behera, Tezpur University
Watch this webinar
Friday 7 August, 03:00 PM - Prof. Benedetta Brevini
Topic: Communication Policy research: Use of Qualitative Interviews
Session Chair: Dr. Ambrish Saxena, DME, India
Watch this webinar
Co-convenors
Prof. Ujjwal K Chowdhury, Pro VC, Adamas University Kolkata
Dr. Uma Shankar Pandey, IAMCR Ambassador, India
For more information contact Uma Shankar Pandey at mailusp@gmail.com