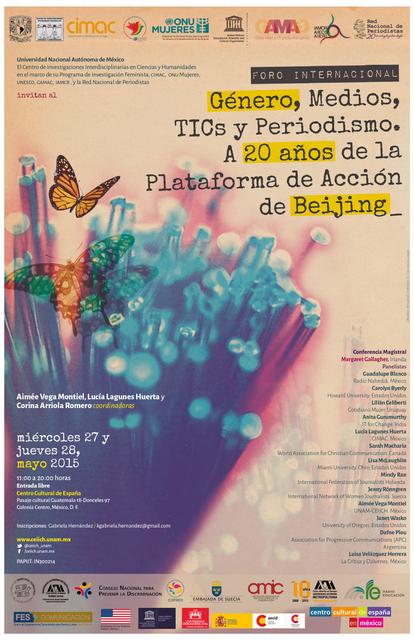 IAMCR is cooperating with the Centro de Investigaciones Interdisciplinarias en Ciencias y Humanidades (CIICH - Centre for Interdisclipinary Research in Science and Humanities) of the National Autonomous University of Mexico (UNAM) to organise the International Forum on Gender, Media, ICTs, and Journalism: 20 years after the Beijing Action Platform. The forum will be held in Mexico City on May 27 and 28.
The keynote presentation will be offered by IAMCR member Margaret Gallagher. Also speaking will be IAMCR president Janet Wasko and Aimée Vega, vice-president of IAMCR and co-coordinator of the forum. Speakers will include representatives of UN Women, UNESCO, the International Federation of Journalists, the International Network of Women Journalists, among others.
Objectives of the forum
To review the implementation of Section J of the Beijing Plan for Aaction and its critical areas -gender balance in media content, women in media structures, gender media policy, gender and digital communication, gender and freedom of expression, including current challenges.
To highlight areas for an action agenda on media and gender that can contribute to the achievement of the post-2015 development agenda and its promotion of gender equality in and through the media.
To launch the Latin American and the Caribbean chapter of the Global Alliance on Media and Gender (GAMAG).
To publish conclusions and the action agenda post-2015.
To give visibility to the Mexican agenda on gender, media, ICTs and journalism, particularly to issues related to internet and sexual trafficking, gender violence against women journalists and freedom of expression and access and participation of women in community media.
Forum sponsors include: UN Women, UNESCO, GAMAG, IAMCR, CIMAC, and Red Nacional de Periodistas(Mexico).