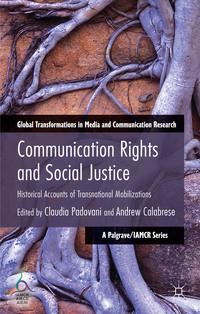 IAMCR Newsletter | July 2014
IAMCR members now have ready access to a new books series —Global Transformations in Media and Communication Research— an IAMCR and Palgrave McMillan Publishers cooperation.
The series seeks to address the challenges posed by fast evolving communication developments in a connected world. It aims to capture creative and trans-disciplinary approaches in exploring these challenges. It also provides a venue for collecting state of the art, sound and innovative scholarly perspectives on specific aspects of communication transformations.
Volumes in the series are expected to be mostly edited publications, bringing together plural voices reflecting the challenges and complexities of today's communication and media developments. IAMCR Sections and Working Groups, which organize and host systematic and sustained platforms for intellectual exchange, harbour valuable intellectual capital and therefore, in their meetings and other exchanges, provide unique opportunities for publishing debates and research on key issues.
In an effort to make the richness and quality of communication research in other languages than English available to English-speaking international scholarly communities, one volume per year will be a translated work. In line with IAMCR's efforts to be as inclusive as possible in the global arena, partial support for translation will be provided by the Association.
The first volume in the series, Communication Rights and Social Justice: Historical Accounts of Transnational Mobilizations, will be formally launched during the Hyderabad conference.
The series' editors are Marjan de Bruin and Claudia Padovani, currently Co-chairs of IAMCR's Publication Committee.
For more information, see the series web page and Submitting proposals for Publication.