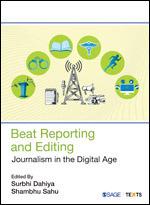 Edited by Surbhi Dahiya and Shambhu Sahu
'Beat Reporting and Editing: Journalism in the Digital Age' is a coedited forty-eight-chapter textbook and an exhaustive resource filled with insights on traditional beats like defence, politics, court, crime, sports, and entertainment.
The book also has exclusive chapters on rural reporting, storytelling, photojournalism and cartooning, social media reporting, misinformation and fake news, and solution-based journalism
It also covers all the emerging forms of journalism such as artificial intelligence (AI), blockchain and bots, podcast, mobile journalism (MOJO), drone journalism (DOJO), and data journalism in India.
Key Features:
First-of-its-kind textbook to include extensive coverage of reporting, with special focus on beat reporting
Not only limited to print media but also covers broadcast journalism as well as digital media
Contains chapters by highly experienced journalists who have worked in their specific beats for decades, and academicians teaching the subject in the classroom
One of the most future-ready textbooks on journalism featuring a whole section on innovations and emerging technologies in journalism
Contents
Message from Hon'ble Vice-President of India, Shri M. Venkaiah Naidu
Foreword by Bill Hinchberger
Foreword by Devesh Kishore
Preface
Acknowledgements
Section I: Understanding Reporting
Section II: Beats as Specialized Reporting
Section III: Data Journalism and Visualization
Section IV: Journalism in the Digital Age: Innovation in Reporting and Emerging Technologies
Section V: Visual Approach in Journalism
Section VI: Beyond Reporting: Opinion and other Forms of Writing
Section VII: Challenges and Solutions in Journalism: Misinformation, Fake News Versus Ethics
Section VIII: Understanding Editing
Index
Surbhi Dahiya is Professor and Course Director, Department of English Journalism, Indian Institute of Mass Communication (IIMC), New Delhi, and IAMCR Faculty Ambassador in India.
Shambhu Sahu is Assistant Professor, Vivekananda Institute of Professional Studies (GGSIPU), New Delhi.
The above text is from the publisher's description of the book:
Title: Beat Reporting and Editing: Journalism in the Digital Age
Editors: Surbhi Dahiya and Shambhu Sahu
Published: 2021
Pages: 636
Publisher: SAGE Publications Pvt. Ltd