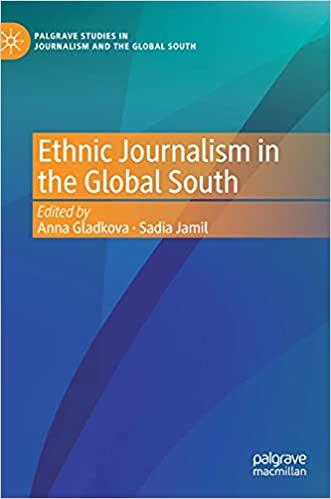 Edited by Anna Gladkova and Sadia Jamil
This book focuses on ethnic journalism in the Global South, approaching it from two angles: as a professional area and as a social mission. The book discusses journalistic practices and ethnic media in the Global South, managerial and editorial strategies of ethnic media outlets, their content specifics, target audience, distribution channels, main challenges and trends of development in the digital age.
This book:
Tackles ethnic media and ethnic journalism from a theoretical and practical perspective.
Systematizes previous research on ethnic media in the Global South.
Provides parallel comparisons with countries of the Global North to put the book into a global context
Anna Gladkova is Leading Researcher and Director of International Affairs Office at the Faculty of Journalism, Lomonosov Moscow State University, Russia, and Vice-chair of IAMCR's Digital Divide Working Group.
Sadia Jamil is a post-doctoral fellow at Department of Humanities & Social Sciences, Khalifa University, United Arab Emirates, and interim Chair of IAMCR's Journalism Research & Education section.
The above text is from the publisher's description of the book:
Title: Ethnic Journalism in the Global South
Editors: Anna Gladkova and Sadia Jamil
Published: 2021
Pages: 315
Publisher: Palgrave Macmillan