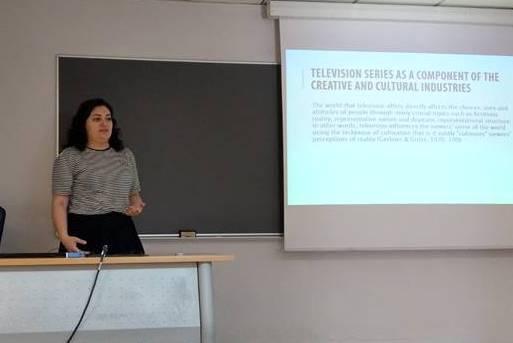 Pinar Aslan, a Research Assistant at Bursa Technical University in Turkey, received a travel grant to present her paper "Global media flow and contra-flow: Trans- nationalization of Turkish Television Series" to the International Communication Section at IAMCR 2019.
In the article below, she tells us about her expectations and experiences:
Last year, I attended the IAMCR conference in Oregon and I enjoyed it so much that I wanted to attend all the IAMCR conferences from then on.
I enjoyed the conference as an academic activity: IAMCR is so good at organizing its conferences with a holistic approach so that everything is so enjoyable -- from keynotes and carefully organized sessions to dinners and lunches.
This year I was lucky to receive a funding from the IAMCR so I could attend the conference in Madrid without worrying about how I would fund it. We were also invited to a meeting where we met the president, vice presidents and nearly all the members of the team to whom we should be grateful for their voluntary hard work. They listened to us and answered all our questions. I really wanted to be one of them, working for such an organization and hopefully donating for other early career scholars in the very near future so that all the academics could enjoy this conference.
Pinar Aslan
---
IAMCR travel grants are funded with a percentage of all IAMCR membership payments plus the voluntary contributions of IAMCR members and supporters.
Please consider making a donation to the travel grant fund. It's a great way to encourage emerging scholars and new perspectives within IAMCR.
| | |
| --- | --- |
| Donate in Euros | Donate in USD |
| | |