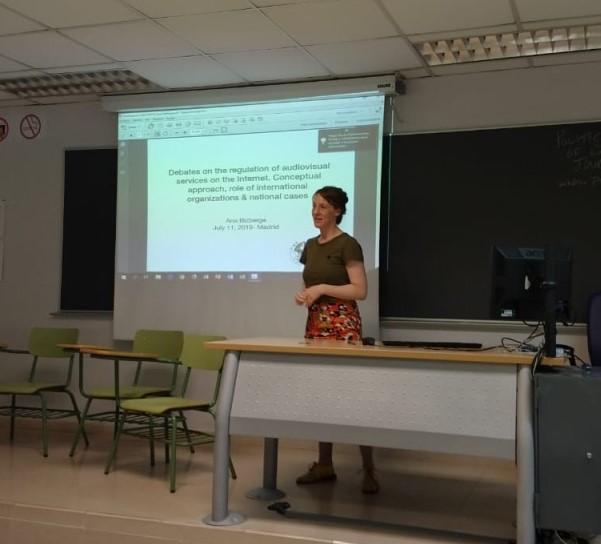 Ana Bizberge is Director of the Master Program in Cultural Industries at Universidad Nacional de Quilmes and Teaching Assistant at University of Buenos Aires, in Argentina. She was awarded an IAMCR travel grant to present her paper titled "Debates sobre la regulación de Servicios audiovisuales en Internet. Abordaje conceptual, rol de organismos internacionales y casos nacionales" to the Political Economy Section. She wrote us with her reflections on IAMCR 2019.
Madrid was my second IAMCR Annual Conference. The first was in 2017 in Cartagena, Colombia, when I joined the association.
After that initial enriching experience I decided I wanted to get more involved and to participate more actively in the network.
Being awarded the travel grant to attend the 2019 Conference in Madrid definitely helped me to achieve my goal.
This year, not only did I have the opportunity to meet new colleagues from different countries but also to start thinking with them on possible ways of developing projects together. I was able to add many well-respected scholars from my field of studies (Political Economy) to my professional network.
Having the opportunity to attend the presentations of many senior scholars as well as to exchange ideas afterwards was amazing. Not to mention that some of them attended to my own presentation.
Thanks IAMCR for giving me such terrific opportunity. I hope to see you all in Beijing 2020.
Ana Bizberge
---
IAMCR travel grants are funded with a percentage of all IAMCR membership payments plus the voluntary contributions of IAMCR members and supporters.
Please consider making a donation to the travel grant fund. It's a great way to encourage emerging scholars and new perspectives within IAMCR.
| | |
| --- | --- |
| Donate in Euros | Donate in USD |
| | |