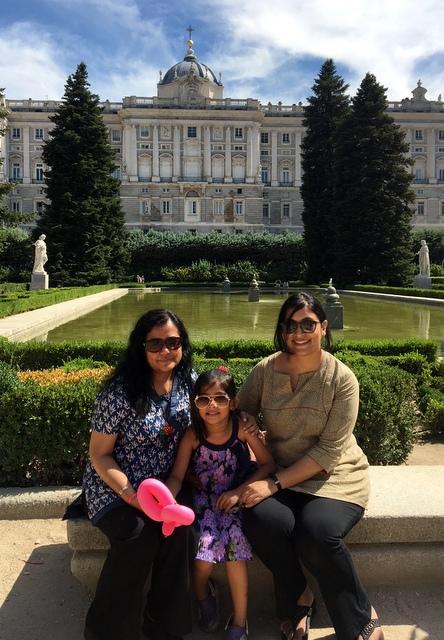 Kajalie Shehreen Islam is an Assistant Professor at the University of Dhaka in Bangladesh. She received a travel grant to present her paper "Advertising Nationalism: War Commemoration and the 'Politics of Memory' in Bangladesh" to the History Section.
In this note she reflects on the experience and acknowledges the activities arranged this year for participants with children.
Attending the IAMCR conference in Madrid this year was both fulfilling and fun. Seeping in knowledge from scholars around the world as well as the bright sunshine and lively city in general was a rewarding experience. I am grateful to IAMCR for providing me with a travel grant which allowed me to attend the conference.
The conference – my second IAMCR conference to date – was not only an opportunity to present my paper titled "Advertising Nationalism: War Commemoration and the 'Politics of Memory' in Bangladesh" to an international audience, but it also allowed me to attend several very interesting sessions on a variety of topics presented renowned as well as up-and-coming researchers from around the world. These have given me fresh ideas and new momentum for carrying out my own research. I also got to reunite with friends from my PhD days as well as meet new people with whom I hope to stay in touch and perhaps engage in collaborative research in future.
I would also like to thank IAMCR for the arrangements made this year for participants with children. As my young daughter was traveling with me, this was a big help. She enjoyed attending the children's camp situated near the conference venue with several other children from Spain and around the world. It allowed her to be a part of my work while also being exposed to and enjoying herself in a new country with new people.
I look forward to maintaining my relationship with IAMCR and to attending its conferences in the future.
Kajalie Shehreen Islam
---
IAMCR travel grants are funded with a percentage of all IAMCR membership payments plus the voluntary contributions of IAMCR members and supporters.
Please consider making a donation to the travel grant fund. It's a great way to encourage emerging scholars and new perspectives within IAMCR.
| | |
| --- | --- |
| Donate in Euros | Donate in USD |
| | |