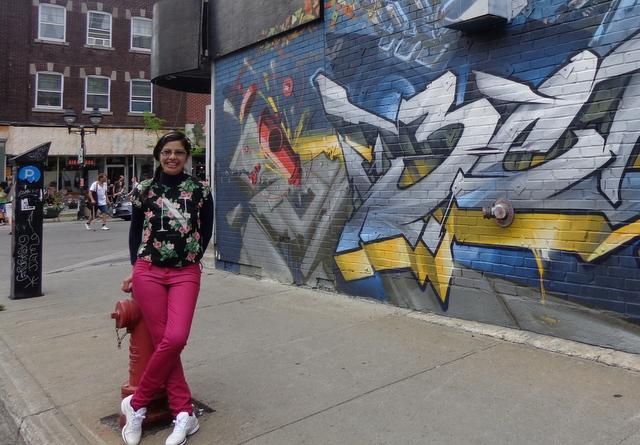 Nelly Lara, a PhD student in the Facultad de Ciencias Políticas y Sociales of the Universidad Nacional Autónoma de México (UNAM), received a travel grant to attend IAMCR's 2015 conference in Montreal.
The 2015 conference was my first opportunity to deliver a paper at an IAMCR conference. In 2009, when the conference was in Mexico, I attended as a member of the local organising group, but this time was different as I was able to share my research. My paper, Prácticas Discursivas de las Mujeres Artistas en la Cultura Hip Hop de la Ciudad de México (Discursive practices of women artists in Mexico City's Hip Hop Culture) was presented in the Gender and Communication Section.
Being part of the Gender and Communication Section was a very rewarding experience. To be able to meet world-class researchers working to advance women's human rights was an inspiration to me and reminded me of my own responsibility to become a better communication researcher in order to be able to better contribute to society.
I also participated in meetings of the Global Alliance for Media and Gender (GAMAG), a worldwide proposal to end violence and discrimination against women in the media that IAMCR is a member of.
Being able to visit Canada for the first time was also fabulous. Montréal fascinated me: a beautiful and multicultural city with lots of activities and people who speak English, Spanish and French alike. The diversity of its cultural richness is apparent in its streets and neighborhoods, inhabited by people of various nationalities.
All this would not have been possible without the support IAMCR offered me in the form of one of the travel grants it offers to researchers from developing countries. This support made my trip, and the opportunity to share my work at an international communication conference, possible.
I want to encourage all members of IAMCR to continue supporting the travel grants. They are are a valuable contribution of the association and its members and enable young researchers like myself to present their work and to learn.
Finally, I want to thank IAMCR, its members and other partners. I return to Mexico with a greater awareness of my own responsibility to contribute by doing more and better communication research.
See you soon!
Nelly Lucero Lara
UNAM
Mexico
Please consider making a donation to the travel grant fund. It's a great way to encourage emerging scholars and new perspectives within IAMCR.
| | |
| --- | --- |
| Donate in Euros | Donate in USD |
| | |