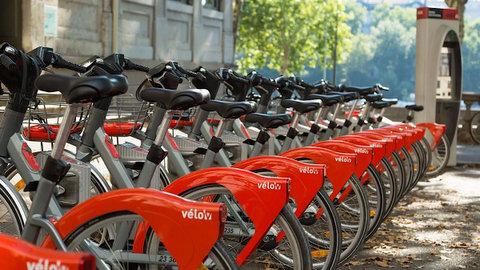 Vélo'v
The red bikes seen all over the city come from a company called Vélo'v and are widely accessible throughout Lyon.
https://velov.grandlyon.com/en/mapping
Offers
Vélo'v has 3 different offers for taking advantage of their bicycles. In order to take advantage of these offers, you must have a Vélo'v account, which you may create on the website or via the Vélo'v app.
The Vélo'v 1 use: 1.80€ ticket valid for one single use, including the first 30 minutes free. After 30 minutes, the next 30 minutes are 5 cents per minute, and so forth increasing by 5 cents each half-hour.
The Vélo'v 1 day: 4€ for unlimited uses for 24 hours; the first 30 minutes of each use are free, followed by a 5 cent increase each half-hour.
Combined Lyon City Card offer: (only available at Vélo'v stations and not online): for 5€, you can use Vélo'vs for 3 days (regardless of the duration of your city card) with unlimited uses for 72 hours from when your Lyon City Card is activated. The first 60 minutes of use is free, followed by a 5 cent increase each half-hour.
**It is important to note that it is only possible to pay via credit card at the station machines or on the app.**
Finding bikes
The easiest way to find available bikes is via the app. There are red flags distributed throughout the map of Lyon, and these numbers indicate the number of available bikes at those specific Vélo'v stations. If you happen to walk past a Vélo'v station, you may also use a bike directly this way.
Unlocking & returning bikes
Using the app, you may unlock the bike of your choice depending on how many are available in the specific station. Once unlocked, you will be able to see the time as it accumulates.
When you are ready to put back your bike, you may search on the 'Available Places' tab within the map (on the app or website) to find the nearest station with empty spots for returning your bike. Once returned to the station, you may choose 'end' on your phone or on the screen at the station, and it will guide you through the remaining steps to finish your transaction.
Dott electric scooters
https://ridedott.com/ride-with-us/lyon/
Dott offers the possibility of exploring the city via scooter. In order to use these scooters, you will need to download the app (IOS or Android) and enter a phone number and consequently, a validation code, followed by a bank card. Once this is complete, you will have access to the map, where the scooters closest to you are shown.
Dott also takes care to display on the map areas where electric scooters are not allowed, areas where a reduced speed is required, zones where parking electric scooters is not allowed, and zones where you CAN park the scooters. The use of Dott scooters is done entirely via the app, therefore you will need a phone and a bank card to use these.*
*It is recommended to download the Dott app and create an account before traveling abroad - in order to avoid fees, many turn their phone on wifi-only access when traveling, and you will be therefore unable to access the validation code sent via SMS needed to use Dott once you are in Lyon.
Lyon is also a lovely city to enjoy by foot. Many visitors and locals alike find their destinations are within walking distance, allowing them to get across the city for free while enjoying the scenery that Lyon has to offer.
Taxis
There are several private taxi companies available to choose from should you wish to take a taxi during your stay in Lyon. These include:
Ridesharing
There are also options for car and ridesharing within Lyon. Two companies that offer carsharing are:
OnlyLyon's website contains further information, offering resources for using public transportation, bikes, car sharing, and various useful websites and apps for your stay in Lyon.
https://events.lyon-france.com/en/convention-bureau/toolbox/useful-links
https://events.lyon-france.com/en/convention-bureau/toolbox/useful-apps