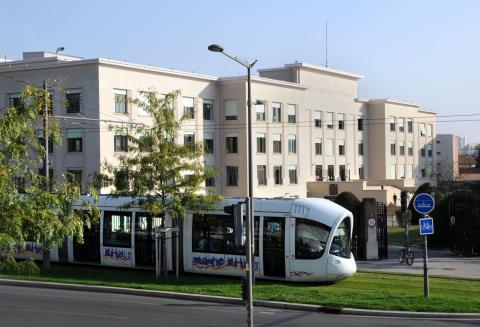 When deciding how to get around Lyon, conference attendees have several affordable and easily accessible options to choose from.
TCL: https://www.tcl.fr/en - the network of public transportation in Lyon. This includes:
4 metro lines (MA, B, C, D)
2 cable cars (F1, 2)
7 tram lines (T1-7)
26 high frequency bus lines (C1-26)
More than 50 regular frequency bus lines (Bus 1, 2, 3, etc.)
Major lines schedules
Metro line A: trains every 4 minutes from 7AM to 9PM with service slowly reducing until the last metro between 12:00 and 12:20AM (between 1:40 and 1:58AM on Fridays and Saturdays)
Metro line B: Between 6AM and 10PM, trains every 3 minutes and the last train between 9:15 and 9:25PM on Mondays and Tuesdays, between 12:12AM and 12:18AM Sundays, Wednesdays, and Thursdays, and between 1:50 and 1:55AM Fridays and Saturdays.
Metro line C: trains every 5-10 minutes between 7AM and 12AM, with the last train between 12:10 and 12:25AM weekdays and 1:48AM and 2:05AM on Fridays on Saturdays
Metro line D: trains every 3-5 minutes between 7AM and 12AM, the last train at 12:15 and 12:20AM on weekdays and 1:55 and 2AM on Fridays and Saturdays
Tram line 1: trams every 5-10 minutes with the last one between 12:26 and 12:35AM
Tram line 2: trams every 5-10 minutes with the last one between 11:50PM and 12:52AM
Buying tickets
Tickets can be bought using coins or a credit card at any metro station and at most tram stations. Tickets can also be purchased inside buses and trams (single trip only) using ApplePay or contactless cards. One ticket costs 2€ and can be used on all trams, buses, cable cars, and metro lines, however, there are several other available options:
Pack of 10 tickets or pre-charged card with 10 tickets: 19€
Pack of 10 tickets for under 26 and students 26-27: 16.30€
Long duration ticket (2 hours to 72 hours): 3.50€ to 17€
One day family ticket (2-5 people): 6.50€
Pack of 10 family tickets (families with at least 3 children under 18): 14.10€
Cable car ticket (valid for a round-trip itinerary on the same day): 3.50€
7-day pass: 22€
It is important to note that each ticket must be validated at the time of use. If you are using the same ticket for the metro and bus for example, you must validate the ticket to access the metro, and again when you board the bus.
TCL Accessibility
Each metro station has an elevator to travel between floors, allowing for metro access. When validating your ticket to go through the doors to the metro, there is one set of larger doors at each metro station to accommodate wheelchairs. Tram stations are ground level, and buses are equipped with ramps that can be lowered by drivers to allow wheelchair entry.
Getting to and from the Airport
Lyon's public transportation network includes a tram running to and from the airport and downtown Lyon, called the Rhônexpress (with 2 stops in-between: Vaulx-en-Velin La Soie and Meyzieu Z.I.) The first tram leaves at 4:25AM from Lyon Part-Dieu (the central train station in Lyon) and arrives at the airport at 4:54AM. The last train leaves the airport at 12AM and arrives at Lyon Part Dieu at 12:29AM. The journey takes 30 minutes maximum, and you may consult the timetables here: https://www.rhonexpress.fr/en_GB/timetable
Accessing the Rhônexpress station
Coming from the boulevard Vivier Merle, you must cross through the entire SNCF Part Dieu train station and exit via Porte Alpes (Rue de la Villette), following the Rhônexpress pictogram. The Rhônexpress tram station is 50m from this train station exit.
All Rhônexpress stations are accessible by elevator. Elevators have a Braille control panel to indicate the different floors, and each platform is equipped with a tactile paving strip to inform visually impaired people of how close to the edge they are.
Tickets
Seat reservations are not available for this tram, but it is recommended that you buy your ticket before traveling. There are several options for Rhônexpress tickets, which can be accessed here: https://www.rhonexpress.fr/en_GB/all-our-prices.
The easiest way to purchase tickets is on the Rhônexpress website or via the Rhônexpress app (IOS and Android). You may use a Visa, MasterCard, or AmericanExpress bank card for purchase. When booking an e-ticket, you have one year from the date of purchase to use the e-ticket. Be sure to buy your ticket ahead of time as it can take up to 20 minutes to appear in the app or in your email inbox.
Tickets can also be bought at the Rhônexpress stations at Lyon Part Dieu, Vaulx-en-Velin La Soie, and Meyzieu Z.I., using bank cards and cash (bills and coins are accepted).
Finally, tickets can be purchased on board for an additional 4€, using bank cards and cash as well.