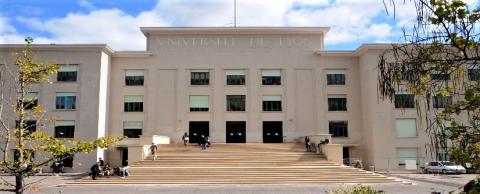 IAMCR 2023 has the honor of taking place at the Rockefeller Campus of Université Claude Bernard Lyon 1, situated on 8 avenue Rockefeller, in Lyon's 8ème arrondissement.
Built in 1930 by a student of Tony Garnier's, Paul Bellemain, the Rockefeller Campus is composed of six buildings including the Faculty of Medicine Lyon East, the Institute of Pharmaceutical and Biological Sciences (ISPB), and the Institute of Rehabilitation Sciences and Techniques (ISTR).
As the subject of a large architectural, technical, and heritage study in 2011, the estate's simultaneous renovations led to the discovery of several details dating back to the 1930s. Today, the original building has been restored, with the addition of a few modern touches. Its acoustic capacities, natural and artificial light, ventilation, and accessibility make Rockefeller an ideal location for this year's conference, the first in-person edition since 2019.
Getting to Rockefeller
Whether you are staying near or on the other side of town from the conference site, Lyon has a large public transportation network to get you there! The bus running towards the site is the C13 direction Grange Blanche, and the stop is Grange Blanche. The metro D line also stops at Grange Blanche, as does the T2 tram line.
To consult hours and current traffic info, please go to https://www.tcl.fr/en/journey-planner/route-finder and use destination 8 Avenue Rockefeller (Lyon).
The conference site is also accessible by foot, bike, or electric scooter. No matter where you are located, there are Velov stations all over the city (https://velov.grandlyon.com/en/mapping) and Dott scooters are widely available as well (https://ridedott.com/ride-with-us/lyon/). More information is available on the "Getting around Lyon" section of this website.