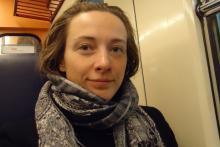 IAMCR Newsletter - April 2016
Olesya Venger, winner of the 2015 UCF Award
Olesya Venger (Ph.D., University of Georgia) is an Assistant Professor at the Hank Greenspun School of Journalism and Media Studies at the University of Nevada, Las Vegas. Having graduated with an M.A. in Advertising (Marquette University) and M.A. in Communication (University of Pennsylvania), she conducts interdisciplinary research on controversial services and products as well as their regulations and media clearance. Specifically, she studies online personals for sexual services and their correspondence to media clearance. Her latest research explores technology and its role in the business of mail-order brides. Her research has been published in Journal of Advertising and Journal of Current Issues and Research in Advertising. Having a working knowledge of cross-cultural marketing and strategic communication, she also studies urban communication and media sociology. Her project on the urban space and sexual marketing in Las Vegas entitled "Spatiality of sexual marketing in Las Vegas Fun, surveillance, and illusion of "sin" on the Strip" was awarded an annual Urban Communication Research Grant by the International Association for Media and Communication Research and the Urban Communication Foundation.
Aimed to investigate how the promotion of sexual services fits into a constantly contested above- and underground space of Las Vegas, the iconic "city of sin," the study focused on activities related to sexual marketing on the Las Vegas Strip, while drawing upon Henry Lefebvre's (1991) framework of conceived, perceived, and lived spaces. To better understand the interactions related to marketing and consumption of sexual services in urban settings, it employed methods of participant observation (to study interactions on the streets), interviews (to investigate attitudes and habits of the public), and content analysis (to explore promotional materials distributed by sexual marketers).
Observing life on the Strip from sunrise to sunset at different times of the day, one week a month during six months from September of 2015 to February of 2016, the study accumulated more than 420 hours of observations regarding public's behavior at different points on the Strip. As a result of intercepting individuals who took sexual marketing materials from street marketers, bought sexual services previously, and wanted to talk about their intent to use sexual materials obtained from street marketers, 68 interviews were conducted. The study demonstrated that despite availability of sexual marketing offers on the Strip, the clients of sex workers tended not to act impulsively, relying on the Internet ads and forums as well as advice of friends instead. They also preferred buying legal over illegal sexual services even in the city of "sin." Given that almost nobody tended to act on the "sinful" offers related to sexual marketing on the Las Vegas Strip, the space of the Strip remained a space for public and sexual marketers' freedom of expression, contributing to the "sinful" atmosphere of the perceived space, where everyone was dreaming about something forbidden but almost nobody transgressed what was allowed/accepted. The findings of the study reaffirm the Las Vegas Strip as a space where the old Vegas practice of "everyone watching everyone" re-emerged in a new form, which suits the needs of casino owners, but not so much gratifications of casino visitors, better and more efficiently than in the past. Creating an illusion of freedom of movement for pedestrians and visitors who are walking the Strip (as opposed to driving around), the perceived space of the Strip imposes a new order of movement all its own.
IAMCR 2016 - Leicester
Panel keynote presentation: Olesya Venger - "Spatiality of sexual marketing in Las Vegas: Fun, surveillance, and illusion of 'sin' on the Strip"
Respondent: Teela Sanders, Professor at the School of Sociology & Social Policy of the University of Leeds
Comments from the UCF/IAMCR Urban Communication Research Grant Jury: Nico Carpentier, Aimée Vega and Cees Hamelink