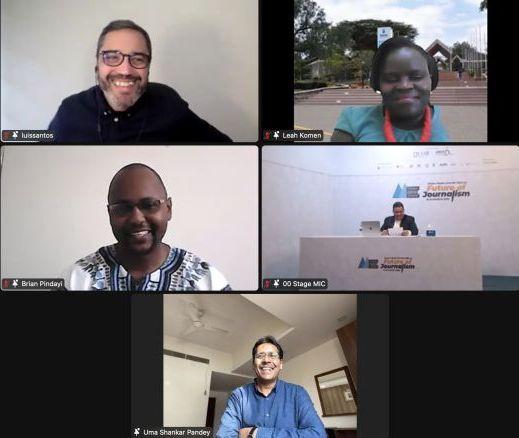 The Dhaka Media Summit 2022 on Future of Journalism started on Thursday 10 March with welcoming addresses by Imran Rahman, Vice-Chancellor of the University Liberal Arts Bangladesh and Nico Carpentier, President of IAMCR, followed by an introduction to the conference by Jude William Genilo, Head of Department of Media Studies and Journalism at University of Liberal Arts Bangladesh, Chair of the Dhaka Media Summit 2022, and IAMCR Faculty Ambassador in Bangladesh. The Most Resilient Journalist 2021 and the Free Press Awards for Courageous Journalism awardee, Rozina Islam, delivered a keynote speech at the opening ceremony.
The first session of the conference was the IAMCR Ambassadors' Session on The Future of Journalism and its Implications to Journalism Education. Jude William Genilo moderated the session. Four IAMCR Faculty Ambassadors, Leah Jerop Komen from Daystar University, Kenya; Luís António Santos from University of Minho, Portugal; Uma Shankar Pandey from Surendranath College for Women, India; and Brian Pindayi from Rusangu University, Zambia, participated in the session as discussants. The session took place with the participation of audiences at national, regional, and international levels and was an important contribution as it introduced the international context to a more regionally-focused academic event.
The IAMCR Ambassadors discussed a wide range of topics related to journalism and journalism education, including audiences' access to media, consumption and re-distribution patterns/behaviours in the digital age, and safety of journalists. Participants provided insights from their countries and regions about journalism practices, the role of social media and internet usage, freedom of speech. They also shared their experiences as media educators and their thoughts on the future of journalism.
Dhaka Media Summit 2022 on Future of Journalism continued with research panels, roundtable discussions, and masterclasses until Sunday 13 March.