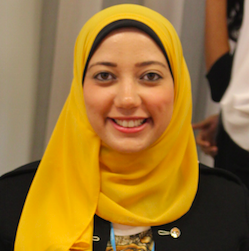 IAMCR is pleased to announce that the 2020 Prize in Memory of Dallas W. Smythe will be awarded to Rana Arafat for her paper "Examining Online Diaspora Journalists' Productions and Networks: A Case Study of Syrian Post-Conflict Advocacy Journalism".
Announcing its decision, the Smythe Award Selection Committee said:
"Very interesting: careful 'inductive' and 'triangulated' empirical study of Syrian advocacy journalism; solid scholarship; systematic presentation and analysis; considered critical stance on emergence of contemporary online diasporic news networks, having important implications for other conflict zones."
The award will be formally presented during the IAMCR 2020 opening ceremony on 12 July. The paper will be presented at Online Conference Papers, in a panel on Journalism Practices, Strategies and Challenges within the programme of the Journalism, Research & Education Section.
Rana Arafat's bio statement
Rana K. Arafat is a PhD student at the Institute of Media and Journalism in University of Lugano (USI), Switzerland. She holds Bachelor and Master's degrees in International Journalism. She worked as a journalism/media lecturer for five years at the College of Language and Communication in the Arab Academy of Science and Technology. She wrote for a big number of local and international newspapers and magazines including Daily News Egypt, Egypt Independent, the German Orange magazine, the Swiss Saint-Gallen magazine, and the European Journalism Observatory (EJO), led by Reuters institute in Oxford University. Her research interests cover a wide range of topics including activist/advocacy journalism, digital media and migration, diaspora journalism, conflict reporting, and journalism innovations.
Abstract
Examining Online Diaspora Journalists' Productions and Networks: A Case Study of Syrian Post-Conflict Advocacy Journalism
Searching for an inclusive definition of diaspora journalism and the changing roles of journalists in exile, this paper employs an inductive approach to examine how diaspora journalists build online networks that blur boundaries between journalism, activism, human rights advocacy, social movements, and civil society work. Using digital ethnography, qualitative content analysis, and in-depth interviews, the study further investigates the online textual productions of two Syrian opposition news websites to explore their media advocacy strategies and the main topics their activism agendas involve as well as examining the diaspora journalists' own perceptions of the changing nature of their profession after fleeing the repressive political spheres in the homeland. Findings demonstrate that diaspora journalism poses various challenges to traditional journalism paradigms as journalists' roles go beyond merely collecting information and publishing stories to include fundraising, training local citizen journalists, collaborating with civil society organizations and carrying out various forms of institutional work. Nine content-related advocacy strategies are further identified in the Syrian diaspora news outlets. State intervention, contextual objectivity, cyber threats, funding pressure, and accessibility of sources pose various limitations to diaspora journalists' advocacy efforts.
About the IAMCR Dallas Smythe Award
Born in Canada in 1907, Professor Dallas Smythe was a founder of the field of political economy of communication and a leading scholar who had significant influence in American and international communication policy. Trained as an economist, Smythe's professional career included appointments at the Department of Agriculture, the Department of Labor and the Federal Communication Commission in the United States and the University of Illinois. His professional work and social engagement eventually caused him problems and during the McCarthy period he found it difficult to get articles published or to get money to fund research. In 1963 he returned to Canada, where he worked at the University of Saskatchewan and later at Simon Fraser University, where he was Professor of Communication from 1976 until his death in 1992.
Dallas Smythe was an active member of IAMCR. He established the Communication Satellites Section, which later became the Communication Policy & Technology Section, and was an active participant in the Political Economy Section.
In recognition of his work, the Dallas Smythe Award was established by IAMCR for "a paper which combines scholarly excellence with a commitment to developing and extending the critical, innovative and engaged spirit that characterised Smythe's contribution to media/communications analysis."
2020 Smythe award committee
Chair: John Sinclair (School of Culture and Communication, University of Melbourne)
Ben Birkinbine (Reynolds School of Journalism, University of Nevada)
Yuezhi Zhao (School of Communication, Simon Fraser University)