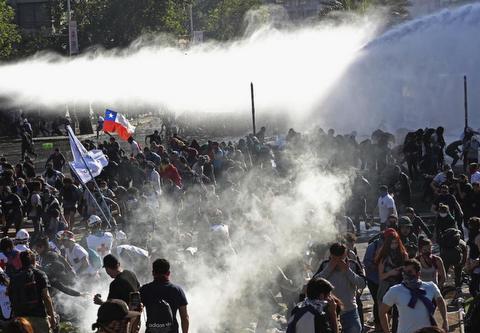 26 Nov. 2019: IAMCR's Clearinghouse on Public Statements has issued the following statement in solidarity with Chile's media workers as they strive to provide coverage of the current crisis in the country.
---
Chile has been wracked by civil unrest and anti-government protests since 18 October, after what began as a high-schooler protest against a hike in subway fares turned into mass demonstrations voicing nationwide demands for major economic and political changes. On 18 October, the government responded by declaring a state of emergency and imposing a curfew that was suspended only on 28 October. Anti-riot squads have used tear gas and water cannons against demonstrators. 23 people have died.
By 6 November, the National Institute of Human Rights (INDH) had registered 1,778 injured in hospitals, the Chilean Red Cross estimated 2,000 to 2,500 injured, and UN rights experts have condemned the use of excessive force during the protests. The General Attorney's office has initiated 1,089 criminal investigations into torture and police brutality including sexual assaults and rape. On 7 November, the government announced a tight security agenda, increased funding to police to extend intelligence gathering, and more criminal prosecutions – a move strongly criticized for ignoring the reasons for the protest.
The Chilean news media has been harshly criticized for its coverage of the crisis (read this or watch this). A core criticism is that dominant media narratives emphasize conflict at the expense of context. Television commentators have shown a lack of understanding and empathy for the cause of the protests (see e.g. this), insisting that social unrest was unexpected. Television has also been slow to cover human rights violations and police brutality, instead, highlighting damage to property or identifying protesters and criminalizing them. Official and corporate sources have outweighed other voices and news programmes frequently resort to dividing the screen to show peaceful demonstrations and riots and looting simultaneously, as if they were of equal importance.
Nevertheless, some media outlets have worked hard to provide balanced coverage and to examine the underlying issues, and all have had to work in challenging and dangerous conditions. Nine arbitrary and violent detentions of journalists had been registered by 30 October (see e.g. this), with 40 media workers injured by rubber bullets (see this). Other reporters have been beaten by the military and police anti-riot squads who allegedly are responsible for most of the attacks. Reporters without Borders denounced police brutality and more general attacks on the press, including difficulties in obtaining safe conduct permission during the curfew. Both mainstream and alternative media journalists have been affected. Obstacles also hampered international journalists' reporting of the crisis (including BBC, TN, and Telesur).
IAMCR supports Chile's journalists and news outlets and calls on all parties to ensure journalists are able to work in conditions that will enable coverage of the current crisis in Chile in a way that allows the reasons for the protests to be understood, gives voice to peaceful protesters, and documents abuses by the military and police anti-riot squads.
---
This text of this statement was drafted by the Clearinghouse for Public Statements and approved by Professor Janet Wasko, president of IAMCR. The Clearinghouse processes statements and/or manages the process of signing statements generated by others, that are principally concerned with issues relating to media/communications and where IAMCR members have substantive scientific expertise that provides a basis for seeking to influence discursive or material practice.