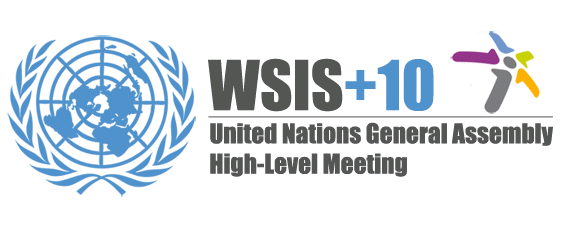 IAMCR participated actively in the United Nations' World Summit on the Information Society process (WSIS, 2003-2005), contributing in particular the International Researchers' Charter for Knowledge Societies (download in English, French or Spanish). During the years following the WSIS, various IAMCR members have continued to be active through, for example, the Internet Governance Forum and a number of the main WSIS action lines such as capacity building, cultural diversity, ethics and, especially, media (with media education annual reports in Geneva).
Ten years after the conclusion of the WSIS process, the UN General Assembly will hold WSIS+10, a high-level meeting on the overall review of the implementation of the WSIS outcomes. This meeting will provide an opportunity for in-depth discussions on important issues in the implementation of the WSIS outcomes, including the progress, gaps and challenges, as well as areas for future actions.
IAMCR continues to signal the importance of information cultures for high quality education and research and submitted the following recommendations on the draft outcome document to be finalized during the WSIS+10 high level meeting in New York 15-16 December 2015.
Text submitted (with contributions from IAMCR's Clearinghouse on Public Statements and its Task Force on Media and Communication Policy):
IAMCR believes strongly in building a knowledge society based on principles of transparent, democratic governance and human rights. Academic researchers play a crucial role in realizing these goals and evidence-based governance of the information society requires both an environment in which scholars and other experts are able to conduct their work independently and an institutional structure in which the academic community are treated as meaningful stakeholders. To further these ends, IAMCR strongly endorses the following points from the Nov. 4, 2015 Draft Outcome Document, in the formation in which they appear in that document: 37-43 (on Human Rights in the Information Society); 53 (on Network Neutrality); and 54 (On the continuation of the IGF mandate).

Furthermore, considering young people and children's increasing access, agency and autonomy in using content and services, their human rights and protection as a vulnerable group needs to be coupled with their education as emerging citizens to ensure they develop a healthy and positive relationship regarding the Internet. Their general well-being, participation in society, and prospects of employment greatly depend on Media and Information Literacy (MIL) as the new set of basic skills for the 21st century, where computational thinking interfaces with the rich and diverse 'cultures of information' (news, data, documents, codes, etc.).

IAMCR, as a community of educators and researchers, draws attention to the need to introduce education and research to the WSIS agenda, as it needs to move beyond capacity building and traditional literacy. Thus, we would like to make the following suggestions:

Make Media and Information Literacy (MIL) 21st Century basics of school curricula.
Regulate data management for learning and research.
Foster the active appropriation by young people and children of their human rights and shared values including Internet governance principles and processes.
Support Internet studies and Media and Information Literacy as a 'frontier' field in research and education.
Bring together multi-stakeholder governance actors, including young people and children, around the co-design of education and research.
Harness the potential of creative industries for learning and training.
Reboot the Corporate Social Responsibility (CSR) of the providers of Internet content and services to support education and research.
Engage young people and children in Internet Governance as a more effective stakeholder group within the ranks of civil society.
Invite public authorities to consider and collaborate in education and research, in particular to develop indicators and accountability mechanisms for next generation (age-sensitive) policies and social innovation.
Create the position of UN Special Rapporteur on education and research for young people and children's sustainable digital development.

Submitted by Janet Wasko, President
International Association for Media and Communication Research (IAMCR)