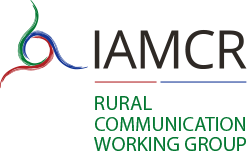 The Rural Communication Working Group of the International Association for Media and Communication Research (IAMCR) invites the submission of abstracts of papers and proposals for panels for the 2019 Congress of the Association, which will be held from 7 to 11 July, 2019 at the Complutense University of Madrid, Spain. The deadline for submission is 8 February 2019, at 23.59 UTC.
The Rural Communication Working Group aims to provide a platform for academic scholars and professionals working in the field of rural communication. The focus of our work is more than just rural communication service provision but exploring the breadth of formal and informal communication platforms to formal and informal communication processes. This encompasses technologies ranging from rural radio to ICTs, from farmer field schools to rural telecommunication infrastructure. The key is that we focus on communication in rural areas, and the intersection between communication and rurality. The motivation for this work comes from the recognition that rural contexts post particular opportunities and challenges for communication activities. If communication is to serve a social purpose, these dynamics need to be understood. Therefore, we focus on rural innovations and interventions, social change and development that responds in a sustained and inclusive manner to communication needs of rural populations.
For this conference, with the theme of "Communication, technology and human dignity", we are interested in papers, panel proposals and facilitated discussion sessions that bring a critical lens to rural communication from a range of disciplinary and thematic contexts. We expect that for this conference theme there will be at least one panel session about climate and environmental change and one about the role of communication in social marginalisation in rural areas. We would like to have a session that critically analyses methodologies in rural communication. We are open to creative and interactive presentations/facilitated sessions, including examples of communication from practitioners.
Further topics of interest to the working group include: innovative methodologies and new technologies for rural communication and extension; interdisciplinary multi-stakeholder actions and social learning; innovation system approaches and knowledge brokering; monitoring and evaluation for learning and institutional change; research and transdisciplinarity in rural communication for development theory and practice, and; mainstreaming communication in rural development policies.
Submission of Abstracts
Abstracts must be submitted from 3 December 2018 through 8 February 2019. We welcome both individual abstracts and panel presentations and are open to discuss alternative formats. We ask you to kindly submit proposals in good time at the abstract submission site – https://iamcr-ocs.org.
Deadlines and important dates
The deadline to submit abstracts is 8 February 2019, at 23.59 UTC.
• 3 December 2018 - Abstract submission system opens at https://iamcr-ocs.org
• 8 February 2019 - Deadline to submit abstracts
• 28 March 2019 - Abstract decisions announced by sections and working groups
• 7 April 2019 - Deadline to apply for travel grants and awards
• 11 April 2019 - Deadline to confirm participation
• 7 May 2019 - Draft conference programme schedule released
• 14 May 2019 - Last day for Early bird registration
• 7 June 2019 - Deadline for full paper submission
• 17 June 2019 - Last day for changes to be made in the print version of the programme
• 7-11 July 2019 - IAMCR Conference
Language policy
The Rural Communication Working Group accepts abstract submissions in all three official languages of the association - English, French and Spanish.
Guidelines for abstracts
Abstracts should be between 300 and 500 words. All abstracts must be submitted through the IAMCR Open Conference System. Abstracts sent by email will not be accepted.
It is expected that each person will submit only one (1) abstract. However, under no circumstances should there be more than two (2) abstracts bearing the name of the same author, either individually or as part of any group of authors. Please note also that the same abstract or another version with minor variations in title or content must not be submitted to more than one Section or Working Group. Such submissions will be deemed to be in breach of the conference guidelines and will be rejected. Authors submitting them risk being removed entirely from the conference programme.
Evaluation Criteria
Submitted abstracts will generally be evaluated on the basis of:
1. Theoretical contribution
2. Methods
3. Quality of writing
4. Literature review
5. Relevance of the proposal to the work of the Section or Working Group
6. Originality and/or significance
Venue of the Congress
The IAMCR Madrid 2019 Congress will take place at the School of Communication of the Complutense University of Madrid, situated on the Moncloa Campus at the Avenida Complutense. It is near the city centre, with a Metro station only 5 minutes away and less than a 30 minute walk from Moncloa or the Halls of Residence area. Moncloa is a communications hub, and a well-known shopping and touristic area of the capital.
The School of Communication teaches degree courses in Journalism, AV Communication and Advertising and Public Relations. Master and doctoral degrees are also taught in Audiovisual Heritage and Multimedia Journalism and Communication (from a variety of viewpoints: socio-cultural, political, organizational, audiovisual, social, etc.). Demand for degree courses was such that the original building soon became insufficient and in 2003, a second teaching centre was added adjacent to the old one; the new building houses lecture halls for senior students, masters' courses, offices for professors and lecturers and a large auditorium.
The School of Communication will soon become the second largest centre of the University in terms of the number of students and the largest of its type in the country. The faculty is proud to serve the enormous demand for communication-related degrees.
Contact
For further information, please consult the general conference website of IAMCR Madrid 2019, the specific website of the Rural Communication Working Group or contact Sarah Cardey or Rico Lie.