Madrid is an ideal city to explore on foot, but if you're in a hurry or located far from the campus, there are a many options for getting around: subway, bus, bike, mopeds, electric cars, taxi or Uber.
TAXI
Madrid taxis are PSVs (public service vehicles), charging standard rates; unlike some other cities, they can be stopped in the street or boarded at a taxi rank. A green light on the roof indicates that a taxi is available. The meter indicates the amount you will be charged. Surcharges (if they apply) should appear in the total registered on the meter.
Taxis to and from the airport: flat rate 30€.
You can also call a taxi by phone to come pick you up; in this case, you will almost certainly be charged from the moment the driver receives the call.
Radio taxi:
| | |
| --- | --- |
| Radio Taxi Gremial Madrid | Contact: 914 47 32 32 |
| Pide Taxi Madrid | Contact: 915 47 82 00 |
| Tele Taxi Madrid | Contact: 915 00 85 60 |
You can also download these apps to your cell phone: pidetaxi or MyTaxi
Remember: Tipping is optional. The amount due is that shown on the meter.
UBER and Cabify
Uber and Cabify are also available in Madrid. As in other countries, the cars are usually upmarket models operated by private individuals.
The system works like everywhere else. If you have the app in your cell phone, it may work in Madrid. If it doesn't, you'll have to download the app here.
Remember: In Madrid, you can pay Uber in cash. Again, tipping is optional.
MADRID BY BIKE
BiciMAd. The White Bikes
In recent times, Madrid City Council has campaigned to promote the use of their electric bicycles. But if you decide to use one, be careful with the traffic and for your safety's sake make sure you are familiar with the Highway Code.
To use the bikes you have to be signed up (you will need your passport number) and have a bike card. You can do this at the totem on the bike parking lots. Payment must always be made by credit/debit card.
The best option to use the bikes during the conference is the 1, 3 or 5-day Season Ticket (ABONO OCASIONAL) You can use the bike as many times as you like during the validity of the card and you will be charged as follows: 1st hour or fraction - 2€; Over 1 hour - 4€ per hour or fraction). The idea behind the service is to get from A to B, not for prolonged use; as you see, over 1 hour's use is penalized.
When you sign up, a 150€ deposit will be held against your credit card and returned when the card expires.
The season ticket is personal and non-transferable. Only the holder is covered by insurance.
For further information: www.bicimad.com
Wearing a helmet is not obligatory.
Remember: These bikes can only be collected and dropped off at the special bike parking lots. At the moment, there is no parking lot on the campus, the nearest one being that of Plaza Moncloa.
MoBike. THE ORANGE BIKES
These are conventional bikes (i.e. not electric) and they can be found in many different places all over the city. It is not necessary to collect them and drop them off at any particular place.
You need to download the app to your cell phone and from then on, all operations (search, reservation, unlocking, payment, return) are made by phone.
The price is approximately 1€ for 20 minutes.
Remember: You can drop off the bikes anywhere within the indicated zone. If you leave a bike outside the zone, you will be charged 20€ for collection.
ELECTRIC CAR RENTAL (Car Sharing)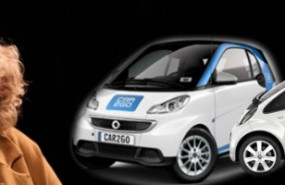 Another way of getting round Madrid which is becoming increasingly popular is Electric Car Rental. It is probably not the best option if you're not familiar with the city; but in case anyone wants to give it a try, the following companies rent these vehicles. Most of them limit the use of the cars to the area within the M30 ring road.
·
Emov: Web: https://emov.es;
·
Car2go: https://www.car2go.com/ES/es/madrid/;
Remember: A valid driver's license is necessary to use these vehicles and it has to be sent to the application or in some cases presented to a driving school.
ELECTRIC MOPED and VESPA-TYPE SCOOTER RENTAL
If you prefer to get around on an electric Moped or a Vespa-type scooter, there are a number of companies which offer this service in Madrid.
·
eCooltra: https://www.ecooltra.com/es/
· Muving: http://www.muving.com/
The following link has a comparative table of the different companies:
https://www.xataka.com/vehiculos/motosharing-madrid-comparativa-todas-apps-motos-compartidas-para-moverse-capital
Remember: To use this service, you need a valid driver's license.