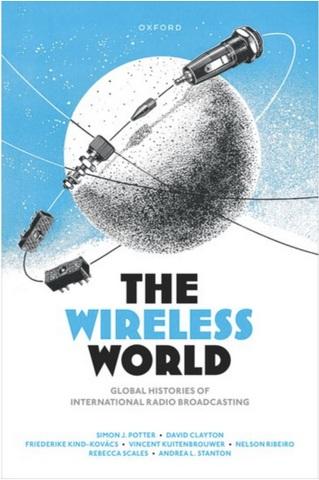 By Simon J. Potter, David Clayton, Friederike Kind-Kovacs, Vincent Kuitenbrouwer, Nelson Ribeiro, Rebecca Scales, and Andrea Stanton
The Wireless World sets out a new research agenda for the history of international broadcasting, and for radio history more generally. It examines global and transnational histories of long-distance wireless broadcasting, combining perspectives from international history, media and cultural history, the history of technology, and sound studies. It is a co-written book, the result of more than five years of collaboration. Bringing together their knowledge of a wide range of different countries, languages, and archives, the co-authors show how broadcasters and states deployed international broadcasting as a tool of international communication and persuasion. They also demonstrate that by paying more attention to audiences, programmes, and soundscapes, historians of international broadcasting can make important contributions to wider debates in social and cultural history.
Exploring the idea of a 'wireless world', a globe connected, both in imagination and reality, by radio, The Wireless World sheds new light on the transnational connections created by international broadcasting. Bringing together all periods of international broadcasting within a single analytical frame, including the pioneering days of wireless, the Second World War, the Cold War, and the decades since the fall of the Berlin Wall, the study reveals key continuities and transformations. It looks at how wireless was shaped by internationalist ideas about the use of broadcasting to promote world peace and understanding, at how empires used broadcasting to perpetuate colonialism, and at how anti-colonial movements harnessed radio as a weapon of decolonization.
Simon J. Potter is Professor of Modern History at the University of Bristol.
David Clayton is Senior Lecturer in Modern History at the University of York.
Friederike Kind-Kovács is Senior Researcher at the Hannah Arendt Institute for Totalitarianism Research at TU Dresden and Lecturer at Regensburg University.
Vincent Kuitenbrouwer is senior lecturer in the History of International Relations at the University of Amsterdam.
Nelson Ribeiro is Associate Professor of Communication Studies at the Universidade Católica Portuguesa, Lisbon, and Chair of IAMCR's History Section.
Rebecca P. Scales is Associate Professor of History at the Rochester Institute of Technology.
Andrea L. Stanton is Associate Professor of Islamic Studies and Interim Director of the Korbel Center for Middle East Studies at the University of Denver.
The above text is from the publisher's description of the book:
Title: The Wireless World
Authors: Simon J. Potter, David Clayton, Friederike Kind-Kovacs, Vincent Kuitenbrouwer, Nelson Ribeiro, Rebecca Scales, and Andrea Stanton
Published: 2022
Pages: 320
Publisher: Oxford University Press