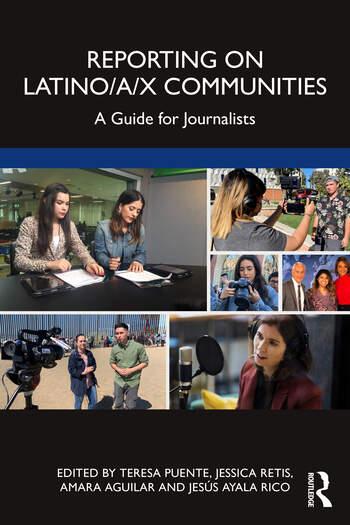 Edited by Teresa Puente, Jessica Retis, Amara Aguilar and Jesus Ayala Rico
This book offers a critical and practical guide for journalists reporting on issues affecting the Latinx community.
Reporting on Latino/a/x Communities emphasizes skills and best practices for covering topics such as economics, immigration and gender. The authors share honest stories about challenges Latino/a/x journalists face in newsrooms, including imposter syndrome and lack of representation in news, along with strategies to face and tackle systematic barriers. Stories from leaders in the media industry are also featured, including journalists and media professionals from ABC News, Los Angeles Times, Alt.Latino at NPR, and mitú. Additionally highlighted are experimental and non-traditional new initiatives and outlets leading the future of news media for Latino/a/x audiences.
This book is an invaluable guide for any student or journalist interested or involved in the news media and questions of Latino/a/x representation.  
Teresa Puente is Assistant Professor at California State University, Long Beach (CSULB)
Jessica Retis, Ph.D is Professor in the School of Journalism, Director of the Bilingual Journalism M.A. and Center for University Education Scholarship (CUES) Fellow at the University of Arizona, and co-chair of IAMCR's Diaspora and Media Working Group.
Amara Aguilar is an associate professor of journalism at USC Annenberg School for Communication and Journalism.
Jesús Ayala Rico is Professor of Broadcast Journalism & Multimedia at California State University, Long Beach (CSULB)
The above text is from the publisher's description of the book:
Title: Reporting on Latino/a/x Communities: A Guide for Journalists
Editors: Teresa Puente, Jessica Retis, Amara Aguilar and Jesus Ayala Rico
Published: 2022
Pages: 270
Publisher: Routledge