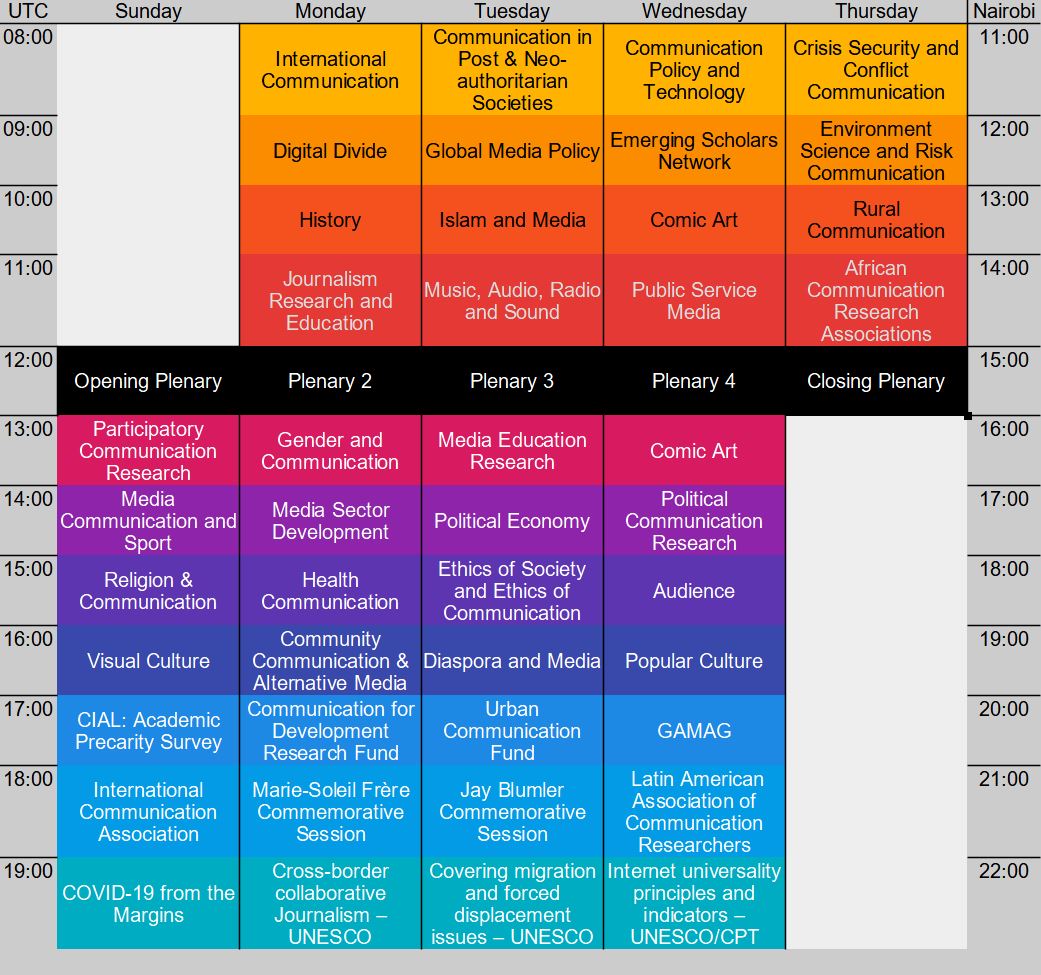 There are several types of video sessions in IAMCR 2021: Plenary Sessions, Section and Working Group Video Sessions, Special and Partner Video Sessions. and the sessions that are part of the Flow34 stream of innovative video and podcasts.
This page presents the Section and Working Group Sessions and the Special and Partner Video Sessions. Learn more about the Plenaries and Flow34.
The 31 Section and Working Group Sessions use a variety of styles and formats to present the work of the thematic groupings witin IAMCR. There are roundtable discussions, collections of paper presentations, and several more experimental formats. The first of these sessions will be released at 13h00 UTC on Sunday 11 July. Following that, one new one will be released on a regular schedule as displayed in the schedule below. Section and Working Group Sessions are accessible only to IAMCR members logged into their accouns and registered (free) for the conference. The Section and Working Group Sessions will be accessible only to registered members of IAMCR.
Special and Partner Sessions include sessions produced by various IAMCR committees, task forces and awards to highlight issues of concern or interest to the association and/or the media and communication research community and sessions produced by our partners, including regional communication research associations, inter-governmental agencies, and others. Special and partner sessions are open and free to access for all. A session will be launched every hour between 17h00 and 19h00 UTC from Sunday 11 July through Thursday 14 July.
Flow34 is a stream for innovative audio/visual contributions. Flow34 aims to stimulate the use of a broader range of modes for the communication of academic knowledge, complementing conference papers and oral presentations with creative audio and/or visual work. The stream features 22 videos and a podcast that integrate academic and aesthetic dimensions, and that use sound and/or image creatively to communicate academic knowledge. The Flow34 videos and podcasts will be freely accessible to all from 11 July to 11 September.
---
Below is a list of the special and partner sessions
The Concept of "Care" in Communication Scholarship – International Communication Association (ICA)
Studying communication in a decolonial key: epistemological, methodological and political stakes – Latin American Association of Communication Researchers (ALAIC)
Urban Communication Research Grant Recipient Panel –, Urban Communication Foundation and IAMCR
The Challenges and Opportunities for Cross Border, Collaborative Journalism – UNESCO
Communication for Development contributions to the Sustainable Development Goals – UNICEF, Global Alliance for Social and Behavior Change
A new gender deal in media and digital communications – Glabal Alliance for Media and Gender (GAMAG)
Breaking borders and boundaries: UNESCO's holistic framework of Internet Universality ROAM principles and indicators – UNESCO and the Communication Policy and Technology Section
Jay Blumler Commemorative Session
Remembering Marie-Soileil Frère
COVID-19 from the Margins: Pandemic Invisibilities, Datafied Policies and Grassroots Alternatives
IAMCR survey on Academic Precarity – IAMCR Committee for the Improvement of Academic Life
Covering Migration and Forced Displacement Issues: A Curriculum for Journalists – UNESCO and the Journalism Research and Education Section
---