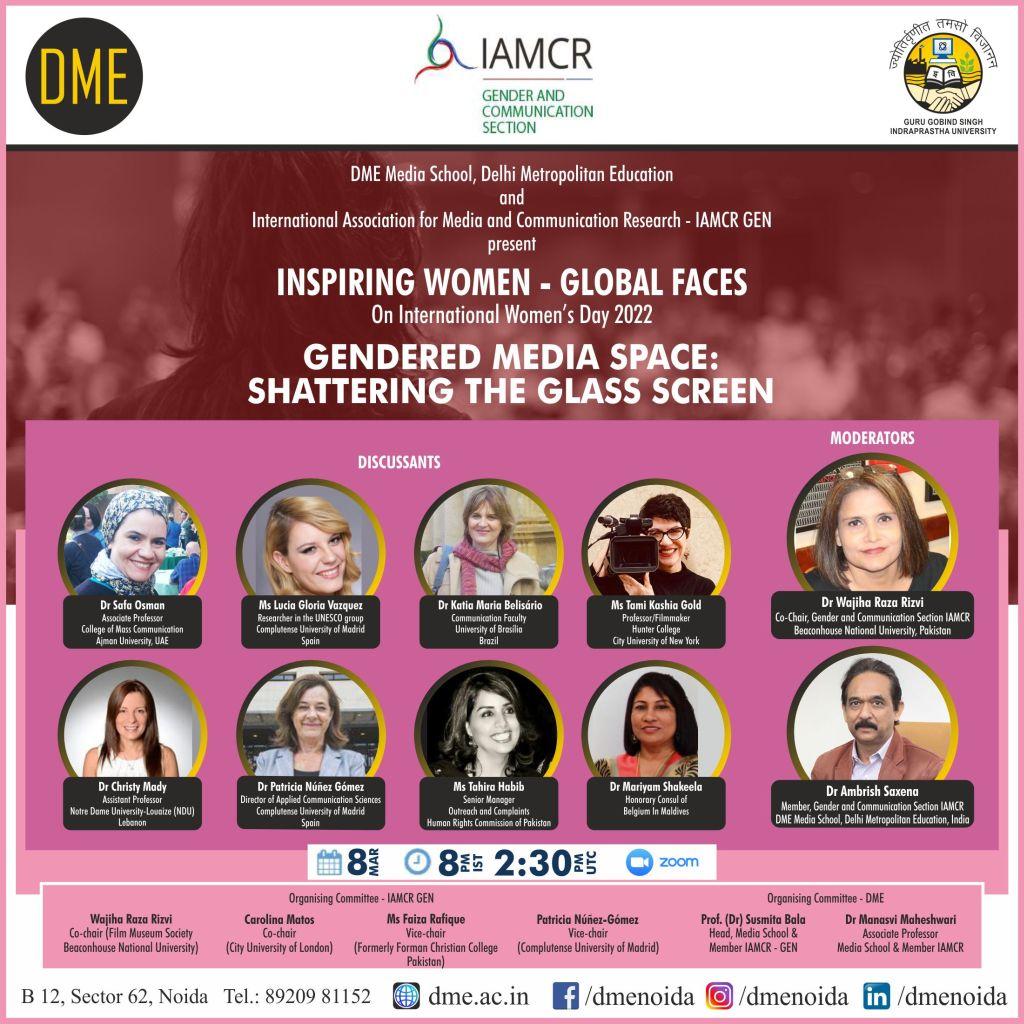 IAMCR's Gender and Communication Section and the Delhi Metropolitain Education Media School marked International Women's Day with the webinar "Inspiring Women - Global Faces / Gendered Media Space: Shattering the Glass Screen"
The webinar is free and registration is not required. It will begin at 20h00 IST / 14h30 UTC on 8 March 2022. To register, write Wajiha Raza Rizvi, who will send you the Zoom link and passcode prior to the webinar. Space may be limited. Please register in advance.
---
INSPIRING WOMEN - GLOBAL FACES
GENDERED MEDIA SPACE: SHATTERING THE GLASS SCREEN
---
March 8, 2022 at 8 PM IST / 2.30 PM UTC
---
Presented by:
DME Media School, Delhi Metropolitan Education (DME)
and
Gender and Communication Section, International Association for Media and Communication Research (IAMCR)
---
This world has always been having little space for women whether inside home or out on the street or even at workplace. With democratization process getting an impetus in the post-colonial era and constitutional democracies of newly independent countries of Asia and Africa striving for creating a society free from discrimination, there has been an acknowledgement of space for women in society. Since the second half of the 20th century both the developed and developing societies have come a long way in providing that space to women to which they are entitled as human beings. Still, there is a long way to go for elimination of discrimination and oppression of women and ensuring them a guarantee for emancipation at home and empowerment at workplace.
Breaking the Glass Screen
Since the COVID-19 pandemic hit somewhere between working from home, working on the frontline, or not working at all, #MeToo has been forgotten and the economic and social status of women has been setback significantly. Additionally, according to UN Women, the COVID-19 pandemic has pushed 96 million people into extreme poverty, 47 million of whom are women of all age.
Women, especially those identified as a racial and ethnic minority, are now balancing childcare responsibilities, managing household stresses and handling office responsibilities during an economic downturn. Navigating the spike in gender/domestic violence is another challenge that has been thrown on these women. Not to mention job losses have cut dramatically deeper for women, and recovery is slow. The pandemic has set women back with lifetime consequences and in the wake of inadequate action, this situation may further go worse.
Most women, especially religious, ethnic and linguistic minorities, although more qualified than their counterparts, experience job insecurity and vulnerability in a men's world. The glass ceiling which was traditionally defined as a barrier that prohibits women from advancing toward the top of a hierarchical corporation has now adopted new meanings. It has today evolved and invaded our homes by reaching the digital screens. This webinar aims to debunk the shift in feminism and breaking the glass screen.
Gendered Media Space
In a study by Mckinsey & Company completed in 2020 after 5 years of hard work, it was found that women are well engaged in media industry though this engagement varies from country to country. The study shows that despite corporate America's greater emphasis on gender equity, women in media profession endure a more toxic work environment than males and a glass barrier that hinders them from ascending to top leadership positions.
Like in other sectors, women in media face significant obstacles. Developments in women's position and involvement in the media worldwide as well as their image in the media have been gradual but noticeable. The analysis also discovered that media material specially portrayal of girls and women, continues to be primarily patriarchal, gender insensitive, and occasionally violates the rights of consumers as also media duty and accountability.
In the media of developing countries, both India and Pakistan included, the number of females in decision-making positions has increased over the years, though their numbers remain poor, particularly compared with male peers. Gender balance in leadership, decision-making and governance procedures is critical for advancing gender equality and empowering women yet simultaneously enhancing business performance.
Despite advancements for women in media practice and media management, the "broken rung" has remained a significant impediment for the last two years. Media sector has failed in bridging the gender divide, particularly during the pandemic period. The statistics are often similar when looking at the global ratio of women to men worldwide. The continuous coverage gap results from the media's obsession with leaders at the expense of everyone else and the well-known 'glass ceiling', which prevents working women from advancing to leadership roles.
This webinar will wander through gendered media space to find out the magnitude of the shattered glass screen.
KEY RESOURCE PERSONS/MODERATORS
Dr Wajiha Raza Rizvi, Pakistan
Co-Chair, Gender and Communication Section IAMCR
School of Media and Mass Communication
Beaconhouse National University, Pakistan
Dr Ambrish Saxena, India
Vice President, Global Media Education Council (GMEC)
Delhi Metropolitan Education, Noida
Guru Gobind Singh Indraprastha University, New Delhi, India
DISCUSSANTS/PANELISTS
Dr Safa Osman, UAE
College of Mass Communication
Ajman University, UAE
Ms Tahira Habib, Pakistan
Human Rights Commission of Pakistan
Dr Katia Maria Belisário, Brazil
Communication Faculty
University of Brasília, Brazil
Dr Christy Mady, Canada/Lebanon
Notre Dame University-Louaize (NDU), Lebanon
Dr Patricia Núñez Gómez, Spain
Faculty of Information Sciences
Complutense University of Madrid, Spain
Ms Lucia Gloria Vazquez, Spain
Complutense University of Madrid, Spain
Ms Tami Kashia Gold
Professor/Filmmaker
Hunter College, City University of New York
Dr Mariyam Shakeela
Honorary Consul of Belgium in Maldives
INTERVENERS
Dr Carolina Matos, UK
Co-chair, IAMCR GEN
Department of Sociology
City University of London
Ms Faiza Rafique
Vice-Chair, Gender and Communication Section IAMCR
Director, Digital Media Studies