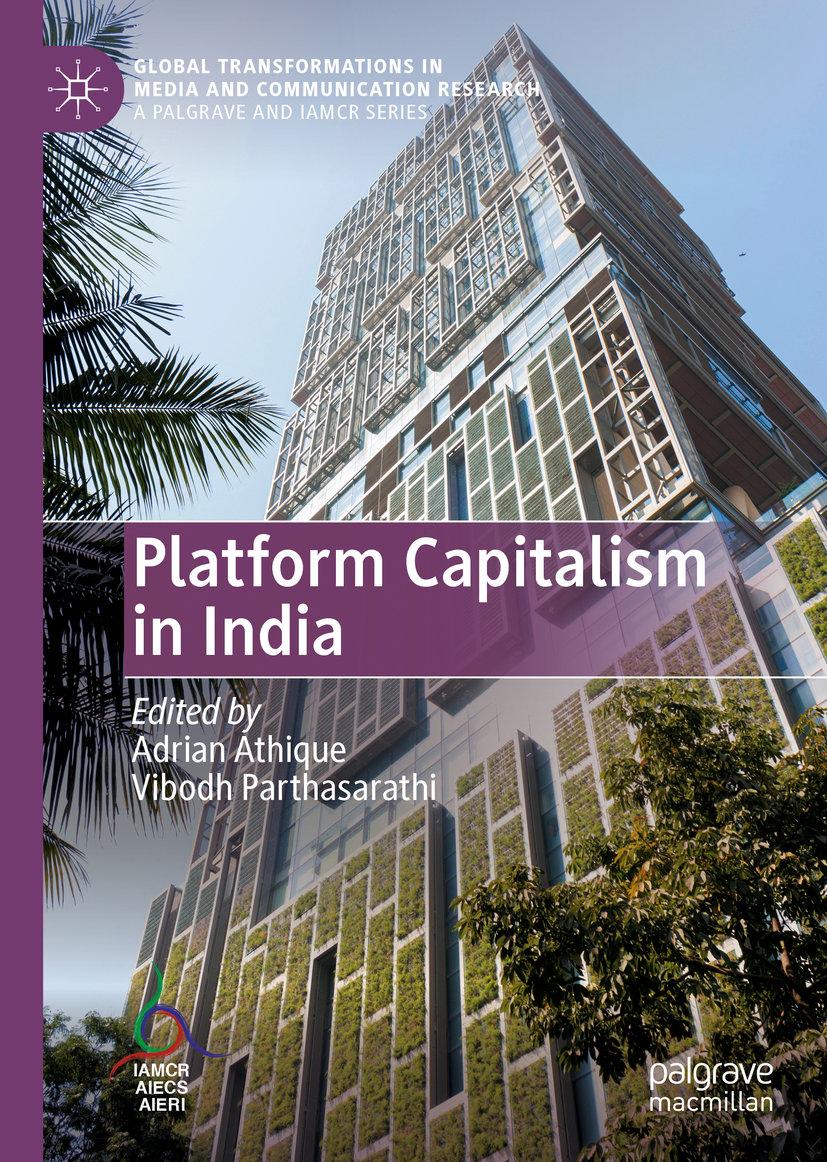 Edited by Adrian Athique and Vibodh Parthasarathi, this is the 14th title in the Palgrave/IAMCR book series Global Transformations in Media and Communication Research.
This volume provides a critical examination of the evolution of platform economies in India. Contributions from leading media and communications scholars present case studies that illustrate the social and economic ambitions at the heart of Digital India. Across interdisciplinary domains of business, labour, politics, and culture, this book examines how digital platforms are embedding automated systems into the social fabrics of everyday life. Encouraging readers to explore the phenomenon of platformisation in context, the book uncovers the distinctive features of platform capitalism in India.
This book:
Brings together cutting-edge work on the emergence of platform economies in India
Investigates how digital platforms embed market systems into the fabric of everyday life
Uses rich case studies to examine platform capitalism in an Indian context
Adrian Athique is Principal Research Fellow at the Institute for Advanced Studies in the Humanities, University of Queensland, Australia.
Vibodh Parthasarathi is Associate Professor at the Centre for Culture, Media and Governance, Jamia Millia Islamia, India.
Discount for IAMCR members
IAMCR members are entitled to a special 35% discount on all titles in the series. If you are a member of IAMCR, email GlobalTransformations@iamcr.org with "global transformations discount" as the subject of your message for details on how to get your discount.
Go to the publisher's website to purchase a title in the series.
Contents
Platform Economy and Platformization - Athique, Adrian (et al.)
Digital Emporiums: Evolutionary Pathways to Platform Capitalism - Athique, Adrian
The Networked Media Economy and the Indian Gilded Age - Fitzgerald, Scott
The Derivative Values of Platform Capitalism - Kumar, Akshaya
Amazon Prime Video: A Platform Ecosphere - Tiwary, Ishita
Telecom and Technology Actors Repositioning Music Streaming - Ithurbide, Christine
Industrial and Financial Structures of Over-the-Tops (OTTs) in India - Bouquillion, Philippe
Journalistic Practices and Algorithmic Governance - Haneef, M. Shuaib Mohamed (et al.)
Inequalities in Ride-Hailing Platforms - Verma, Ravinder Kumar (et al.)
Aadhaar: Platform over Troubled Waters - Singh, Pawan
Political Communication on Social Media Platforms - Rodrigues, Usha
Portfolios of Fear and Risk in Platform News - Arvikar, Hrishikesh
Informality in the Time of Platformization - Kumar, Akshaya
Notes on the Platformization of Mainstream Hinduism - Thomas, Pradip
Capitalist Platforms and Subaltern Creativity - Rai, Amit
The above text is from the publisher's description of the book.
Title: Platform Capitalism in India
Editors: Adrian Athique and Vibodh Parthasarathi
Published: 2020
Pages: 331