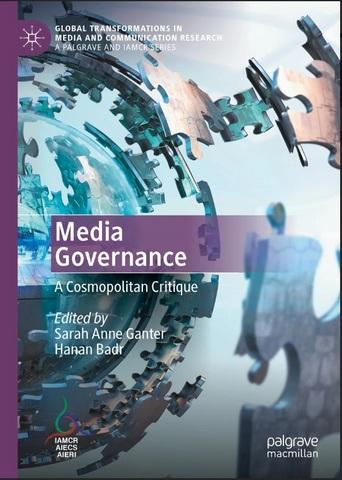 Edited by Sarah Anne Ganter and Hanan Badr Media Governance: A Cosmopolitan Critique is the 19th title in the Palgrave/IAMCR book series Global Transformations in Media and Communication Research.
See the publisher's description of the book
The book offers a critical map to navigate the field of media governance. A thread of cosmopolitan critique connects the fourteen chapters to enhance media governance literature beyond the West and regional foci. The first part addresses the epistemological and ontological flaws in the use and adaptation of media governance. The second part opens pathways for critique and provides a thorough understanding of the ambivalences that scholars encounter when addressing media governance as a field of study. The third part highlights shortcomings like geographical narrowness and tensions in the use of media governance concepts. The scholarly contributions show that media governance as a field of study is far from being established: its conceptualizations are in flux and need scholarly self-reflection, and ongoing discussions need to leave behind universalist conceptualizations and methods of analysis. The chapters reflect on hegemony, power, sovereignty, and identity as conceptual center points in media governance research. The book uniquely breaks with self-referential Western academia and is part of ongoing collaborative scholarly efforts towards epistemic transformation through dialogue.
This book:
Offers a critical map to navigate the field of Media Governance.
Develops Cosmopolitan Critique as a decentering methodological approach
Contributes to the De-Westernization of Media and Communication Studies
Sarah Anne Ganter is Assistant Professor of Communication and Cultural Policy in the School of Communication at Simon Fraser University in Vancouver.
Hanan Badr is Professor for Public Spheres and Inequalities at the Department of Communication, University of Salzburg, Austria.
Discount for IAMCR members
IAMCR members are entitled to a special 35% discount on all titles in the series. If you are a member of IAMCR, email GlobalTransformations@iamcr.org with "global transformations discount" as the subject of your message for details on how to get your discount.
Go to the publisher's website to purchase a title in the series.
Contents
Introduction: Re-examining Media Governance Through Cosmopolitan Critique - Sarah Anne Ganter, Hanan Badr
Concepts and Epistemology
Sovereignty, Power, and Agency in Neoliberal Configurations of Media and Governance in the Global South - Sanjay Asthana
Media Governance as Diagnostic Lens to Probe Hidden Dimensions of Authoritarian Decision-Making in the Arab Middle East - Naomi Sakr
Challenges of Media Governance and Media Policy in Latin America: In the Context of Media Reform Battles - Rodrigo Gómez
Media Accountability in a Non-democratic Context: Conceptual Challenges and Adaptations - Judith Pies
Critique and Ambivalences: Assessing Media Governance
Cosmopolitan Media, Contestation, and Critique: Assessing International Media Governance Standards from the Nigerian Perspective - Ufuoma Akpojivi
Media Governance and Fake News in Brazil - Afonso de Albuquerque, Lucineide Magalhães de Matos
The Egyptian Media Governance Framework: Gains and Limitations - Rasha Allam
Media Governance as a Utopian Concept in a Local Mediascape: Challenges for Conceptual Development in South Korea - Hyejin Jo, Dal Yong Jin
New Perspectives and Conceptual Innovations
A New Perspective on the Importance of the State in Global Internet Governance: Tracing China's Participation - Hong Shen
Democratic Governance of Media and Public Communication: Latin American Participatory Institutions Created in the Twenty-First Century - María Soledad Segura, Alejandro Linares
Understanding the Dynamics of Social Media Governance in South Africa - Trust Matsilele, Bruce Mutsvairo
Deliberative Policy Ecology Approach: Media Policy Studies from South Asia - Preeti Raghunath
Conclusion: Cosmopolitan Critique as a Counterhegemonic Methodology - Sarah Anne Ganter, Hanan Badr
---
The above text is from the publisher's description of the book.
Title: Media Governance: A Cosmopolitan Critique
Editors: Sarah Anne Ganter and Hanan Badr
Published: 2022
Pages: 318