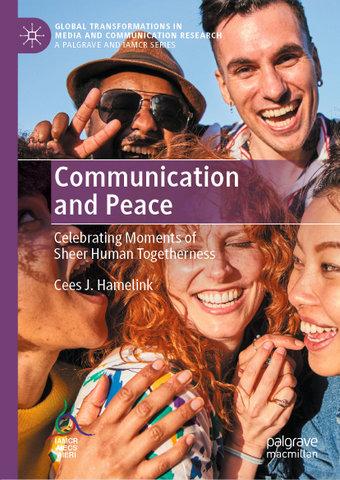 By Cees J. Hamelink - This is the eleventh title in the Palgrave/IAMCR book series Global Transformations in Media and Communication Research.
This book provides a robust conceptualization of peace. Hamelink defines peace as conceived of moments of celebrating human togetherness, with deep fractures that polarize society standing in the way of collectively celebrating togetherness and posing a serious existential risk to humanity. 'Deep dialogue' is the form of human cooperative communication that is needed to build communities that can overcome polarization. This is the most difficult form of human conversation as it is based upon trust, mutuality, patience and freedom, and requires safe, non-threatening spaces, but this book explains how to overcome the essential obstacles that prevent this dialogue. To curate a 'deep dialogue' we must turn to humanity's unique resource: our ability to communicate pro-socially and cooperatively.
This book:
Argues that celebrating human togetherness is central to the preservation of peace
Curates a new conceptualization of peace
Outlines the key roadblocks that prevent productive, collaborative communication
Cees J. Hamelink is Emeritus Professor of Global Communication at the University of Amsterdam, Netherlands and a member of IAMCR.
IAMCR members are entitled to a special 35% discount on all titles in the series. If you are a member of IAMCR, email GlobalTransformations@iamcr.org with "global transformations discount" as the subject of your message for details on how to get your discount.
Contents
The Concept
A Polarized Planet
Deep Dialogue
A Tall Order
Desperate Optimism
The above text is from the publisher's description of the book.
Title: Communication and Peace: Celebrating Moments of Sheer Human Togetherness
Author: Cees J. Hamelink
Published: 2020
Pages: 161