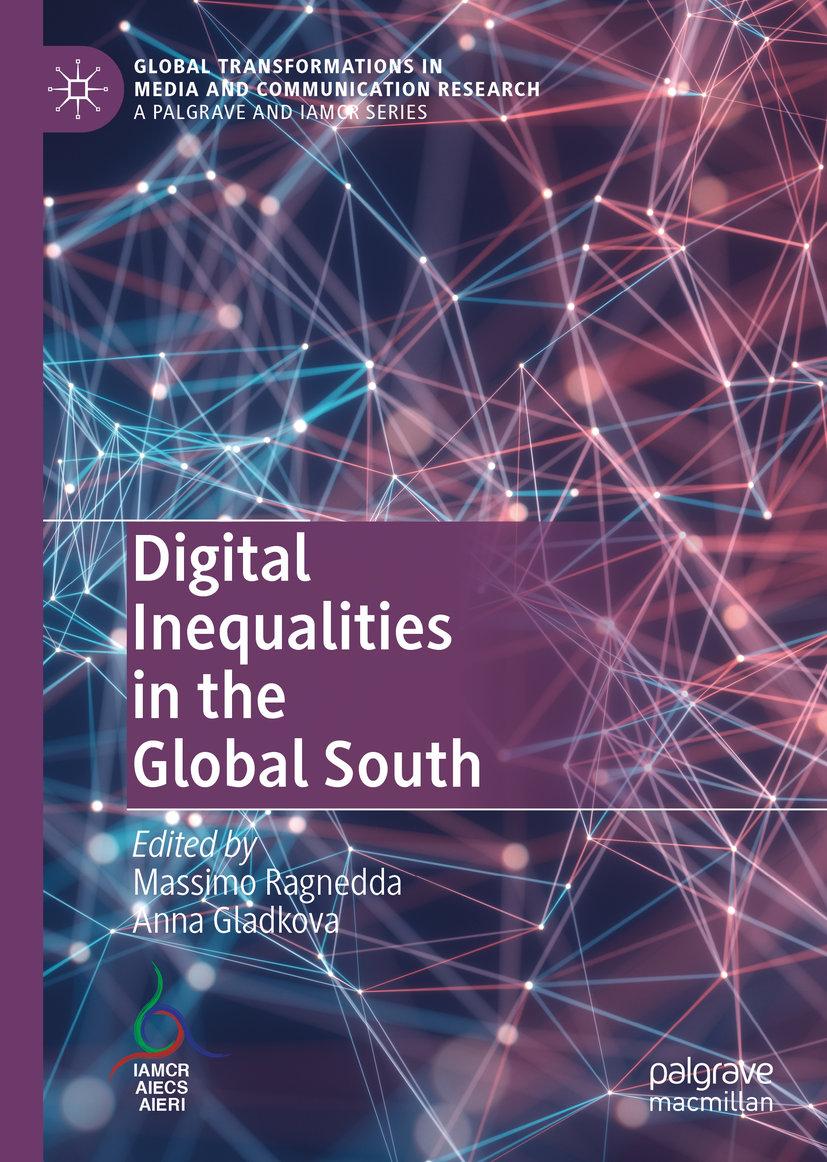 Edited by Massimo Ragnedda and Anna Gladkova, this is the twelfth title in the Palgrave/IAMCR book series Global Transformations in Media and Communication Research.
This book discusses how digital inequalities today may lead to other types of inequalities in the Global South. Contributions to this collection move past discussing an access problem – a binary division between 'haves and have-nots' – to analyse complex inequalities in the internet use, benefits, and opportunities of people in the Global South region. Using specific case studies, this book underlines how communities in the Global South are now attempting to participate in the information age despite high costs, a lack of infrastructure, and more barriers to entry. Contributions discuss the recent changes in the Global South. These changes include greater technological availability, the spread of digital literacy programs and computer courses, and the overall growth in engagement of people from different backgrounds, ethnicities, and languages in digital environments. This book outlines and evaluates the role of state and public institutions in facilitating these changes and consequently bridging the digital divide.
This book:
Discusses connections between digital and social inequalities in the countries of the Global South
Examines how the Global South is overcoming different types of digital divides, using illustrative case studies from the region
Argues that state and public policies aimed at overcoming digital inequalities in the Global South help to bridge the digital divide
Massimo Ragnedda is Senior Lecturer in Mass Communication at Northumbria University, UK, and co-vice chair of IAMCR's Digital Divide Working Group.
Anna Gladkova is Leading Researcher and Director of International Affairs Office at the Faculty of Journalism, Lomonosov Moscow State University, Russia, and co-vice chair of IAMCR's Digital Divide Working Group.
Discount for IAMCR members
IAMCR members are entitled to a special 35% discount on all titles in the series. If you are a member of IAMCR, email GlobalTransformations@iamcr.org with "global transformations discount" as the subject of your message for details on how to get your discount.
Go to the publisher's website to purchase a title in the series.
Contents
Introduction - Ragnedda, Massimo (et al.)
Understanding Digital Inequalities in the Global South - Ragnedda, Massimo (et al.)
Impacts of the Digital Divide on the E-government Portals of Nepal - Acharya, Bhanu Bhakta
A Widening Digital Divide and Its Impacts on Existing Social Inequalities and Democracy in Pakistan - Jamil, Sadia
Widening the Wedge: Digital Inequalities and Social Media in India - Rani, Padma (et al.)
ICTs, Power Prejudice and Empowerment: Digital Exclusion of the Poor in Rural Bangladesh - Ullah, Mohammad Sahid
Weaponization of Access, Communication Inequalities as a Form of Control: Case of Israel/Palestine - Kreitem, Hanna M.
Digital Inequalities in CIS Countries: Updated Approach to the Analysis of Situation - Smirnova, Olga
A Comparison of High-Skill and Low-Skill Internet Users in Northeast Anatolia, Turkey - Özsoy, Duygu (et al.)
Digital Infrastructure Enabling Platforms for Health Information and Education in the Global South - Radovanović, Danica (et al.)
Moving Beyond the Rhetoric: Who Really Benefits from Investments in Digital Infrastructure in Low-Income and Low-Literacy Communities in Malawi? - Jamu, Edister Samson (et al.)
Digital Inequality and Language Diversity: An Ethiopic Case Study - Zaugg, Isabelle A.
The End of the Public Sphere: Social Media, Civic Virtue, and the Democratic Divide - Moyo, Last
The Digital Divide: Observations from the South About a Failed Dialog with the North - Berrío-Zapata, Cristian
Social Inequality, Technological Inequality and Educational Heterogeneity in the Light of the Conectar Igualdad OLPC Programme (Salta, Argentina, 2015–2017) - García Vargas, Alejandra (et al.)
Afro-Creole Nationalism and the Maintenance of the Digital Divide: The Case of Jamaica - Gordon-Bell, Nova
The above text is from the publisher's description of the book.
Title: Digital Inequalities in the Global South
Editors: Massimo Ragnedda and Anna Gladkova
Published: 2020
Pages: 372