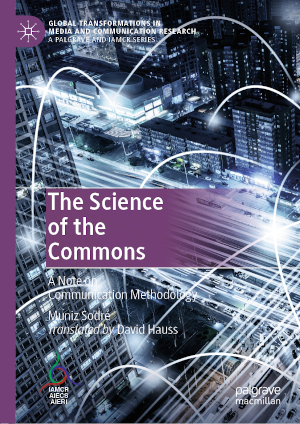 By Muniz Sodré and translated by David Hauss - This is the ninth title in the Palgrave/IAMCR book series Global Transformations in Media and Communication Research.
The Science of the Commons: A Note on Communication Methodology proposes a new mode of comprehending communication. Leaving aside a sociological and linguistic model that defines communication as a process of information transmission, this book introduces an innovative ethical-political understanding of communication as a connection of the common, the cohesive tie of the community. Muniz Sodré critiques the weak ethical and political aspirations of the field of communication and suggests the construction of a 'post-disciplinary' science, set against the classic disciplines of sociology, anthropology and economics, which resists a global ideology of financialization. Moving the field of communication beyond media studies to a philosophical reflection on the roots of the community, The Science of the Commons is a ground-breaking book that offers fresh perspectives for the study of communication worldwide.
This book:
Provides a ground-breaking new perspective on communication studies
Challenges standard sociological and anthropological thinking on media
Sheds light on the true theoretical core of communication and its interdisciplinary background
Muniz Sodré is Professor Emeritus at the Federal University of Rio de Janeiro, Brazil and a member of IAMCR.
IAMCR members are entitled to a special 35% discount on all titles in the series. If you are a member of IAMCR, email GlobalTransformations@iamcr.org with "global transformations discount" as the subject of your message for details on how to get your discount.
Go to the publisher's website to purchase a title in the series.
Contents
Introduction
A Post-disciplinary Science
A Financial Ideology
A Science for the Virtual Bios
The Organization of the Common
The above text is from the publisher's description of the book.
Title: The Science of the Commons: A Note on Communication Methodology
Authors: Muniz Sodré
Published: 2019
Pages: 248
Publisher: Palgrave Macmillan